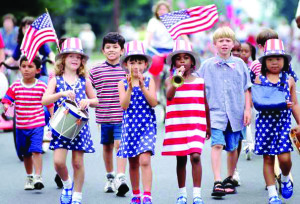 Happy Independence Day!
[tabs type="horizontal"]
[tabs_head][tab_title]English[/tab_title]
[tab_title]Español[/tab_title][/tabs_head]
[tab]Independence Day (July 4) is a day of excitement that often includes concerts and fireworks as Americans celebrate their independence from Great Britain. This Independence Day, there will be many activities in the Kansas City area you can enjoy with your family and friends, including the following:
*Star-Spangled Spectacular at Overland Park: The city of Overland Park, Kan.; Overland Park Rotary; and Corporate Woods sponsor this annual event. The event will start at 4 p.m. (fireworks start at 9:30) at Corporate Woods. Music, children's activities, food and beverages will be part of the event. People are encouraged to bring a blanket and sit on the grass.

*KC River Fest 2014: Considered the area's premiere Independence Day celebration, the KC River Fest will run from 4 to 11 p.m. at the Richard L. Berkley Park in Kansas City, Mo. The River Fest offers the largest fireworks show in the Midwest, music, food, children's activities and family entertainment. Admission is $5 (free for ages 12 and under). Tickets are available at www.kcriverfest.com or at the gate (cash only).
*Fireworks and the Salute to the Union: Enjoy food, music, fun and fireworks from 3 to 10 p.m. at Merritt Lake, located on Grant Avenue at Fort Leavenworth in Leavenworth, Kan. There'll be a rock concert at 4, followed by the Salute to the Union at 7:30 and fireworks at 8:30. To enter the fort, you'll need a valid ID card.
*Sparks in the Park: There'll be music, other forms of entertainment, family fun and fireworks, starting at 6 p.m. at Longview Lake
Park in Kansas City, Mo. In addition, American veterans will be honored. The event is free, including parking, and open to the public. For more information, visit http://www.jacksongov.org/recreation/. *Worlds of Fun Celebrate America: Worlds of Fun is making its Independence Day celebration a month-long celebration.
The main event will take place on July 4 at the Kansas City, Mo., amusement park, followed by other special events every Saturday in July. Admission is $36.99 for twilight admission on Independence Day.
For more information or tickets, visit www.worldsoffun.com/. Have a safe, happy Independence Day!
[/tab]
[tab]Celebremos el 4 de Julio con diversión y fuegos pirotécnicos El Día de la Independencia (Julio 4) es uno de emoción que a menudo incluye conciertos y fuegos artificiales mientras los estadounidenses festejan su independencia de Gran Bretaña.
Este Día de la Independencia, habrán muchas actividades en el área de Kansas City que pueden disfrutar con su familia y amigos, incluyendo las siguientes: *Star-Spangled Spectacular en Overland Park: La ciudad de Overland Park, Kan., el club Rotario de Overland Park y Corporate Woods patrocinan este evento anual. Éste comenzará a las 4 p.m.
Grant Avenue en el Fuerte Leavenworth en Leavenworth, Kan. Habrá un concierto de rock a las 4, seguido por el Saludo a la Unión a las 7:30 y fuegos pirotécnicos a las 8:30. Para entrar al fuerte, necesitará una identificación válida.
*Celebración 'Big Bang' del 4 de julio: Habrá música y otras formas de entretenimiento, diversión familiar y fuegos artificiales, a partir de las 6 p.m. en el parque del lago Longview en Kansas City, Mo. Además, veteranos estadounidenses serán honrados.
El evento es gratuito, incluyendo el estacionamiento y está abierto a todo el público. Para más información, visiten www.jacksongov.org/recreation. *Worlds of Fun Celebra América: Worlds of Fun está haciendo su celebración del Día de la Independencia con festejos todo el mes.
El evento principal se realizará el 4 de julio en el parque de entretenimientos de Kansas City, Mo., seguido por otros eventos especiales cada sábado en julio. La entrada cuesta $36.99 para la admisión en el ocaso del Día de la independencia. Para más información o adquirir boletos, visiten www.worldsoffun.com. ¡Que tengan un Día de la Independencia feliz y seguro!
[/tab]
[/tabs]