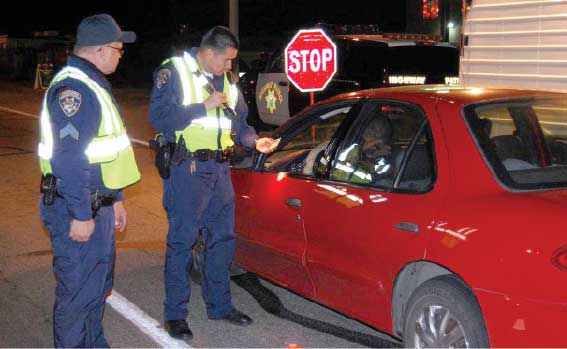 License checks to occur throughout the city
[tabs type="horizontal"]
[tabs_head][tab_title]English[/tab_title]
[tab_title]Español[/tab_title][/tabs_head]
[tab]By Jesus Lopez-Gomez
The police are ramping up efforts to find drivers without a license.
Using federal grant money, the Kansas City (Mo.) Police Department has been operating a series of checkpoints placed randomly around the city to identify unlicensed drivers. Sgt. Christopher Bentch, an officer leading the effort, said he hopes to use the grant money to run four or five checkpoints in a year. Two were held this summer – one on June 18, one on July 9.
Functionally, the checkpoints are similar to DUI checkpoints. Officers will funnel traffic into restrictive lanes that allow officers to wave over cars selected randomly. Cars are then checked individually for licenses.
But reports show officers have found much more during their searches. Out of the 1,285 vehicles stopped during the June 18 checkpoint, officers found 107 drivers with city arrest warrants issued against them, according to The Kansas City Star. The same report also shows officers encountered six individuals with state arrest warrants and stopped one car that had narcotics, in addition to citing around 100 drivers for license violations. The checkpoint led to 35 arrests.
Of the 1,099 vehicles checked during the July 9 checkpoint, most of the 74 violations issued were license-related, KMBC-TV 9 reported, although other crimes were detected, too. During the June checkpoint, a bus was reported to have been on site to immediately transport anyone detained for immediate processing.
Missouri classifies a failure to show a license as a misdemeanor punishable by a fine of up to $300. A second violation is punishable by a fine of up to $1,000 and as much as a year of jail time. A third violation is a Class D felony.
Writing about a similar grant-funded license checkpoint program in 2010, KCPD Chief Darryl Forte said the searches revealed one in 20 Kansas City, Mo., drivers assessed were on the road illegally. Over six checkpoints, 7,472 cars were checked, resulting in about 500 arrests and citations, including 248 drivers who couldn't produce a valid license.[/tab]
[tab]La policía está aumentando sus esfuerzos para encontrar a los conductores sin licencia.
Usando fondos federales, el Departamento de Policía de Kansas City (Mo.) ha estado operando una serie de puntos de control colocados al azar en toda la ciudad para identificar a los conductores sin licencia. El sargento Christopher Bentch, un oficial que encabeza el esfuerzo, dijo que espera utilizar el dinero de la subvención para operar cuatro o cinco puestos de control en un año. Dos se llevaron a cabo este verano —uno el 18 de junio, otro el 9 de julio.
Funcionalmente, los puestos de control son similares a los puestos de control para encontrar a conductores bajo la influencia de alcohol. Los oficiales canalizan el tráfico en carriles restrictivos que permiten a los policías dirigirse a coches seleccionados al azar. Luego, estos son checados individualmente para las licencias.
Pero los informes muestran que los agentes han encontrado mucho más durante sus búsquedas. De los 1,285 vehículos que fueron parados durante el puesto de control del 18 de junio, se encontraron 107 conductores con órdenes de detención emitidas por la ciudad en contra de ellos, de acuerdo con el Kansas City Star. El mismo informe también muestra que los oficiales encontraron a seis personas con órdenes de captura del estado y pararon a un coche que tenía narcóticos, además de citar a unos 100 conductores por violaciones de licencia. El punto de control dio como resultado 35 arrestos.
De los 1,099 vehículos checados durante el punto de control del 9 de julio, la mayoría de las 74 violaciones expedidas fueron relacionadas a la licencia, según informó KMBC-TV 9; sin embargo, también se detectaron otros delitos. Durante el punto de control de junio, se reportó que un autobús fue usado en el sitio para transportar inmediatamente a cualquier detenido para su procesamiento inmediato.
Missouri clasifica la incapacidad de mostrar una licencia como un delito menor que se castiga con una multa de hasta $300. Una segunda violación se castiga con una multa de hasta $1,000 y hasta un año en la cárcel. Una tercera violación es considerada un delito mayor de clase D.
Refiríendose a un programa similar de puesto de control de licencias, financiado por un subsidio en el 2010, el jefe del KCPD, Darryl Forte, comentó que las búsquedas revelaron que uno de cada 20 de los conductores en Kansas City, Mo. evaluados, estaba conduciendo de manera ilegal. Durante seis puestos de control, se revisaron 7, 472 vehículos, resultando en alrededor de 500 arrestos y citatorios, incluyendo
248 conductores que no pudieron presentar una licencia válida.
[/tab][/tabs]