Oct 11-2014
By Jesus Lopez-Gomez, photos by Alison Claire Peck. 
For Making Movies bassist Diego Chi, Latino culture is a broad platform.
Chi spoke during the band's mini-festival on Sunday (Oct. 5) at Knuckleheads Saloon in Kansas City, Mo. He explained the Making Movies Canaval marks a new chapter for the band in a few ways.
First, the band's second album "A La Deriva" ("Adrift" in English) is getting a second release through the Colorado-based label United Interests. Second, Making Movies is starting an aggressive push onto the national stage, beginning with an extensive East Coast tour and a recent visit to National Public Radio's (NPR's) studios for a performance.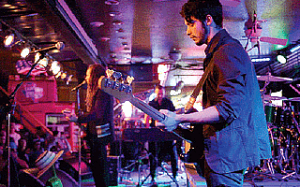 The NPR visit was part of NPR's "Tiny Desk Concert" series. It'll air later this year. During the performance, the band played alongside the fusion polymaths of Ozomatli — a band that comfortably pivots from reggae to salsa with a rap cadence. That got Chi thinking about alt-Latino culture.
The native Panamanian said alt-Latino is Janus-faced, both forward- and backward-looking, and a cultural phenomenon Hispanics — especially young ones — are fomenting based on a contemporized tradition.
"To me, the 'alt' means being able to be relevant," he said.
Chi said the band wanted Sunday's festival to be relevant in a holistic manner, so the musicians included folkloric dancing. The festival included bachata dance lessons before Making Movies took the stage.
There also was an impromptu drum circle. In addition, the attendees dined on pupusas — a traditional Salvadorian dish of thick, cheese- and meat-filled tortillas — and washed them down with Boulevard beer.
Chi said the mere fact that Knuckleheads was willing to host what he hopes will be an annual event is, in the parlance of the Millennial Generation, kind of a big deal.
It's the only way the band sees fit to inaugurate its new chapter.
"We're trying to build a career that can last our whole lives," Chi said.
"What we're working on today will help us continue what we're doing until we're old men."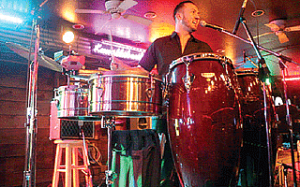 Artist Chico Sierra also was at the festival, selling edgy prints that incorporate traditional Latino tropes into a macabre aesthetic. Sierra said the "alt" in alt-Latino is redundant because the term "Latino" has historically expanded its definition to include both the heritage and the people who live it. The present is no different.
"Being alternative is being Latino," he said. "That's the culture with all Latinos, and you can always hear the past in it."
[divider]
Making Movies revive con festival latino de arte
Para el bajista de Making Movies, Diego Chi, la cultura latina es una plataforma amplia.
Él habló en el mini festival de la banda, que se celebró el domingo, 5 de Oct., en Knuckleheads Saloon en Kansas City, Mo. Explicó que el carnaval Making Movies marca un nuevo capítulo para la banda en un par de maneras.
En primer lugar, el segundo álbum de la banda "A la deriva" tendrá un segundo lanzamiento a través de la marca con sede en Colorado llamada United Interests. En segundo lugar, Making Movies está empezando un agresivo empuje hacia el escenario nacional, comenzando con una extensa gira por la costa este y una visita a los estudios de la Radio Pública Nacional (NPR) para una presentación.
La visita a NPR fue parte de la serie "Tiny Desk Concert" de la red; y saldrá al aire a finales de este año. Durante la presentación, la banda tocó junto a los eruditos de fusión de Ozomatli —una banda que cambia con comodidad del reggae a la salsa con una cadencia de rap— lo cual hizo que Chi pensara en la cultura alt-latina.
El panameño de nacimiento explicó que alt-latino es el fenómeno cultural  con el rostro de Janus, el cual mira para adelante y para atrás y que los hispano —especialmente los jóvenes— están fomentando basado en una tradición contemporizada.
"Para mí, el 'alt' significa ser capaz de ser relevante", refirió.
Chi comentó que la banda quería que el festival del domingo fuera relevante de una manera holística, por lo cual incluyeron no sólo el baile folclórico, sino también un círculo de tambores improvisado. Además, los asistentes cenaron pupusas —un plato tradicional salvadoreño hecho de tortillas gruesas rellenas de quesos y carnes— con cerveza de Boulevard Brewing Company. El festival incluyó clases de baile de bachata, antes de que Making Movies se apoderara del escenario.
Chi indicó que el mero hecho de que Knuckleads Saloon estuviera dispuesto a ser sede de algo que él espera sea un evento anual, es en la jerga de la Generación Milenio, una especie de gran cosa.
Es la única forma que la banda ve apropiada para inaugurar su nuevo capítulo.
"Estamos tratando de construir una carrera que pueda durar todas nuestras vidas", dijo. "En lo que estamos trabajando hoy nos ayudará a continuar lo que haremos hasta que estemos viejos".
El artista Chico Sierra también estuvo en el festival, vendiendo impresiones atrevidas que incorporan textos breves con música (tropos) tradicionales latinos en una estética macabra. Él comentó que el "alt" en alt-latino es redundante, ya que el término "latino" en sí ha expandido históricamente su definición para incluir tanto la herencia o patrimonio como las personas que lo viven. El presente no es diferente.
"Ser alternativo es ser latino. Esa es la cultura con todos los latinos; y siempre se puede oír el pasado en él", concluyó.