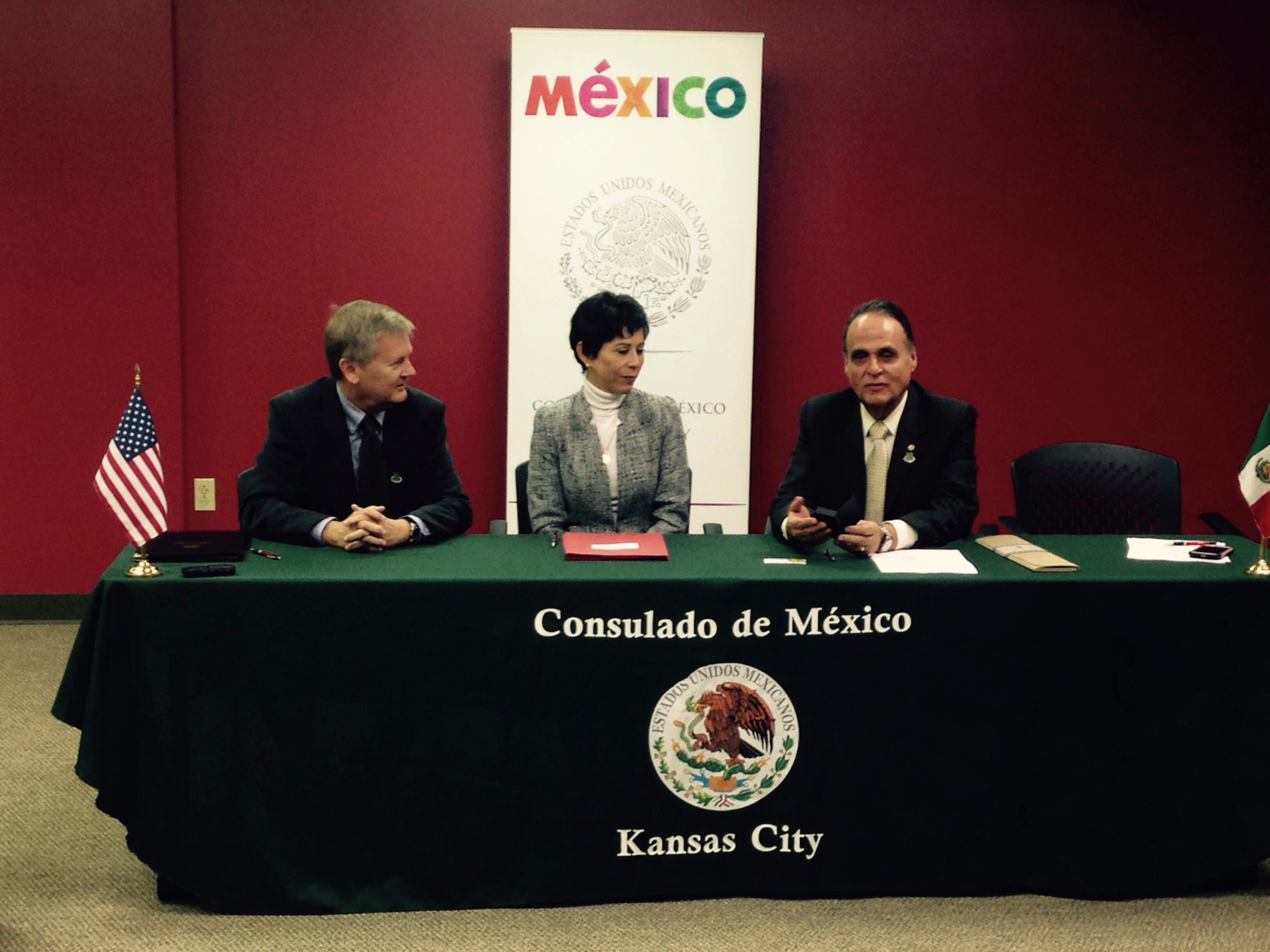 By Jesus Lopez-Gomez
Mexico's oldest university has entered into formal partnerships to share students, faculty and research with three area universities.
Liaising through the Mexican Consulate, Autonomous University of the State of Hidalgo has signed letters academic cooperation with representatives from the University of Missouri-Kansas City — a first for the school — and Missouri Southern State University, the state's international school, as per gubernatorial decree.
A letter of intent signaling the same agreement was signed with leadership from The University of Kansas.
The agreement will create, among other symbiotic elements, standard credit metrics to facilitate easy passage from a U.S. university involved in this accord to Hidalgo, and a pooling of faculty and research for use among each of the partnership institutions.
Dr. Susan Gronbeck-Tedesco, KU's associate vice provost, said the cooperation will allow the two institutions to match strengths, like pairing students from the schools' architecture and biomedical fields, two categories in which both are undertaking important work.
The key to this partnership will be introducing the faculties to one another, Gronbeck-Tedesco said. Representatives from each of the schools involved in this partnership will visit the Mexican school in May.
Dr. Humberto Veras Godoy, the Hidalgo university head, said this agreement was created as a consequence to an academic cooperation enacted by presidents Obama and Peña Nieto. The statement of support — formally known as the Bilateral Forum on Higher Education, Innovation and Research — is meant to pool academic resources in an effort to strengthen the competitiveness of both the U.S. and Mexico.
Part of this is a sharing of student bodies.
Veras Godoy said his university — and now the three U.S. institutions partnering with the Hidalgo school — are key players in Proyecta 100,000, an initiative that aims to increase the number of students in exchange programs to 150,000 in all. By 2018, the agreement hopes to place 100,000 Mexicans in U.S. programs, and 50,000 students in this country in institutions that honor partnerships like the Hidalgo school.
Gronbeck-Tedesco said her aims for the partnership extend beyond just the ivory tower of the academic. Rather, she said it should engender a global community.
"More than anything, we need respects from all sides," she said. "We're here to contribute to world peace and world understanding."