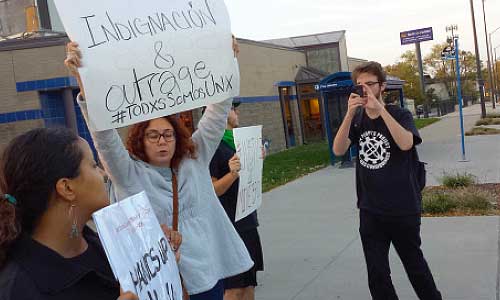 Un grupo de activistas se congregó en la intersección de la Calle 31 y la avenida Prospect la semana pasada para expresar su oposición a la opresión. Toda.
Los organizadores se reunieron bajo un movimiento recién formado llamado Una Lucha, que – al igual que el movimiento Occupy – busca organizar el fervor populista contra la injusticia para obtener acción colectiva para el público en general.
En lo que difiere con Occupy son sus objetivos y alcances. Mientras el antiguo movimiento se centró principalmente en la desigualdad económica, Una Lucha se centra en abusos de derechos humanos al centro de una serie de luchas aparentemente inconexas.
Por ejemplo, los manifestantes que se reunieron en el corredor de la avenida Prospect la semana pasada se reunieron llamando a la solidaridad tanto con los residentes de Ferguson, Missouri – que están en espera de una decisión de un gran jurado sobre el asesinato del joven negro Michael Brown – y los 43 estudiantes mexicanos que fueron desaparecidos en Guerrero.
¿Qué tan relacionadas están las situaciones en Ferguson y Ayotzinapa en verdad? Los organizadores las ven como dos ramas de la misma corriente tóxica.
Hablando de manera anónima, uno de los organizadores del movimiento explicó abusos contra los derechos humanos en ambos casos – así como desproporcionadamente gran población encarcelada de los EE.UU., los abusos de los derechos de los poblaciones indígenas, la amenaza que poblaciones transgéneras enfrentan constante en la sociedad contemporánea – como todos conectados por su común producto: transgresiones contra un derecho inalienable a la justicia.
El organizador dijo que al centro de estos temas aparentemente inconexos se esconde un motor común.
"Realmente creemos que tenemos un enemigo y ése es la avaricia", dijo el organizador, por lo cual todas estas cuestiones deben ser entendidas como la expresión de un solo error, y por lo cual se necesita un movimiento común y respuesta colectiva.
"Nosotros … queremos involucrar a voces negras y cafés, y mostrarles que todo es una lucha", dijo el organizador.
[divider]
Activists see Ferguson, Ayotzinapa as "all one struggle"
By Jesus Lopez-Gomez
Recently, a group of activists congregated at the intersection of 31st Street and Prospect Avenue in Kansas City, Mo., to voice their objection to oppression.
All forms of it.
The organizers of the rally came together under a newly-formed movement called One Struggle, which seeks to organize populist fervor against injustice into collective action for the general public. The movement is similar to the Occupy movement that received international media coverage a few years ago.
Where One Struggle departs with Occupy is in its aims and scope. Where the former movement focused primarily on economic inequality, One Struggle is centered on human rights abuses at the center of a range of seemingly unconnected struggles. For example, the protestors gathered at the Prospect Avenue corridor called for solidarity with both the residents of Ferguson, Mo. – who are awaiting a decision from a grand jury on the killing of African-American youth Michael Brown – and the 43 Mexican students who disappeared recently in Guerrero.
The One Struggle organizers see the situations in Ferguson and Ayotzinapa as two branches of the same toxic stream. Speaking anonymously, one organizer said human rights abuses in both those cases – and the United States' disproportionately large prison population, the abuses of indigenous people's rights, the constant threat the transgender populations face in contemporary society – are all connected by their common product: transgressions against an unalienable right to justice. The organizer said a common engine is at the center of these seemingly disconnected issues.
"We really do believe we have one enemy – and it's greed," the organizer said.
That's why all the aforementioned issues should be understood as the expression of a single fault – and why a common movement and collective response is needed, according to the organizer.
"We … want to involve black and brown voices, and show them that it's all one struggle," the organizer said.