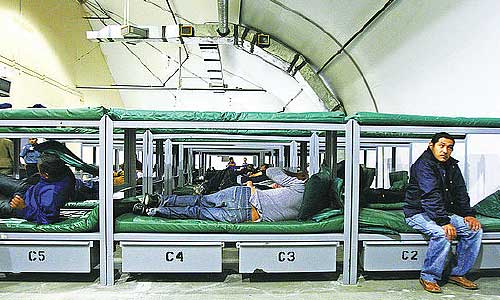 Cuando el Centro Residencial del sur de Texas abra en diciembre, tendrá salas de juegos, un bar de botanas y una cancha de fútbol cercada para todos los que permanezcan ahí.
Y estará listo para un máximo de 2,400 inmigrantes detenidos.
La instalación más nueva de la Agencia de Aplicación de Aduanas e Inmigración (ICE) se está construyendo en Dilley, Texas — a unas 90 millas de la frontera entre México y EE.UU. — como parte de lo que está siendo visto por los activistas de derechos de los inmigrantes como los esfuerzos del gobierno de Obama para enviar un mensaje a los posibles inmigrantes: No Vengan aquí.
La instalación es la tercera "residencia familiar" que ICE ha construido en meses recientes.
Lo que diferencia al centro de detención de Texas es un arreglo financiero que se ha fusionado en torno a él. La instalación se está construyendo como parte de un contrato de servicios federales en poder de Eloy, Ariz., pero que será satisfecho — construido, manejado y mantenido — por Corrections Corp. de América (CCA), la mayor empresa de la prisión con fines de lucro de la nación.
Aunque la instalación traerá a los inmigrantes encarcelados de la nación a Dilley, también traerá 600 empleos e incrementará el valor de las propiedades de la pequeña ciudad.
Eloy, un pueblo de más de 900 millas de distancia cuyos funcionarios declararon famosamente que ellos no tenían la intención de visitar alguna vez el Centro Residencial del sur de Texas, actuará como un contador para CCA, recolectando $290 millones en nombre de la empresa y manteniendo alrededor de $500,000 para la ciudad.
Esas cuotas son recolectadas junto al dinero adicional que la ciudad recaba por acoger un centro de detención, el cual es objeto de escrutinio por parte de organismos de control de los derechos humanos que han hecho un llamado a ICE para que aborda las condiciones que han dado lugar a 13 muertes de detenidos desde el 2004 debido al suicidio o a enfermedades, de acuerdo con los registros internos.
CCA también maneja el Centro de Detención de Eloy.
En un comunicado, los funcionarios del centro de detención citaron el hecho de que no ha habido suicidios o muertes en 18 meses y los servicios médicos mejorados son una prueba de que CCA toma "el bienestar de cada detenido muy en serio", según un vocero de la compañía de prisiones.
[divider]
Arizona town to manage Texas ICE detention center
By Jesus Lopez-Gomez
When the South Texas Residential Center opens in December, it will have playrooms, a snack bar and a soccer fence for everyone that stays there.
And it will be ready for up to 2,400 immigrant detainees.
The Immigrations and Customs Enforcement's (ICE's) newest detention facility is being built in Dilley, Texas — about 90 miles from the U.S.-Mexico border — as part of what's being viewed by immigration rights activists as the Obama administration's effort to send a message to would-be immigrants: Don't come here.
The facility is the third "family residence" ICE has built in recent months.
What sets the Texas detention center apart is a financial arrangement that has coalesced around it. The facility is being built as part of a federal services contract held by Eloy, Ariz., but which will be fulfilled — built, run, maintained — by the Corrections Corp. of America (CCA), the nation's largest for-profit prison company.
Although the facility will bring the nation's incarcerated immigrants to Dilley, it also will bring 600 jobs and increased property values to the small town.
Eloy, a town more than 900 miles away whose officials famously stated they have no intention of ever visiting the South Texas Residential Center, will act as an accountant for the CCA, collecting $290 million on behalf of the company and keeping around $500,000 for the city.
Those fees are collected alongside additional monies the city collects for hosting a detention center, which is the subject of scrutiny by human rights watchdogs who've called on ICE to address conditions that have led to 13 detainee deaths since 2004 because of either suicide or illness, according to internal records.
CCA also runs the Eloy Detention Center.
In a statement, detention center officials cited the fact that there hasn't been a suicide or death in 18 months and enhanced medical services as evidence that the CCA takes "the well-being of each detainee very seriously," according to a prison company spokesperson.