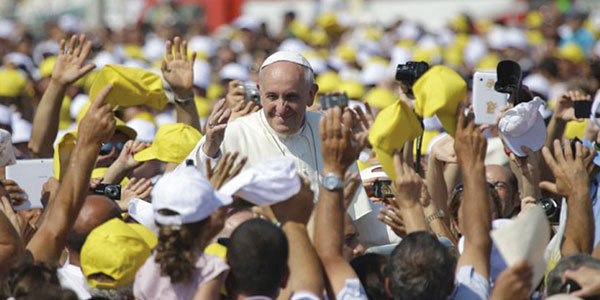 Un grupo de derechos inmigrantes recientemente anunció que solicitaría el apoyo del papa Francisco para la reforma de inmigración en Estados Unidos.
"Queremos (que el papa Francisco) sea la voz de los 11 millones de trabajadores indocumentados en Estados Unidos", fue citada por Univisión Alejandra Saucedo, directora ejecutiva del grupo Dreamers Moms (Mamás de los Soñadores).
De acuerdo con la página en Facebook de Dreamers Moms, miembros de la organización harán una caminata de 100 millas en ocho días para entregar la petición al papa Francisco durante su próxima gira por Estados Unidos. La petición le pedirá al Papa interceder por los trabajadores indocumentados en Estados Unidos.
Miembros de Dreamers Moms empezarán la caminata el 16 de septiembre. Para honrar algunas madres indocumentadas que están en prisión,  se iniciará afuera del centro de detención York en Pennsylvania. La caminata terminará en Washington D.C. Los participantes compartirán las historias de los trabajadores indocumentados que viven en Estados Unidos.
Las mujeres en Dreamers Moms que han trabajado en la petición desde el 2013, ya entregaron una copia de la petición a una iglesia en Miami. Ellas planean darle al Papa su copia correspondiente en el mes de septiembre en Washington.
El papa Francisco iniciará su gira por Estados Unidos el 22 de septiembre. Él no ha confirmado una cita con los líderes de Dreamers Moms, pero no obstante ellas esperan poder verlo.
"Hemos hecho todo lo que está en nuestras manos para lograr un espacio en la agenda del papa Francisco, pero no tenemos programado nada todavía", citó Univisión a Saucedo. "Será un sueño hecho realidad si lo logramos".
Para apoyar el movimiento mediante los medios sociales, usted puede seguir a Dreamers Moms en Twitter @DreamersMOMS, y utilizar la etiqueta #BeOurVoice
---
Undocumented families requesting pope's support
By Chara
An immigrant rights group recently announced it would request Pope Francis' support for immigration reform in the United States.
"We want (Pope Francis) to be the voice of the 11 million of undocumented workers in the United States," Alejandra Saucedo, CEO of the group Dreamers Moms, was quoted by Univision as saying.
According to Dreamers Moms' Facebook page, members of the organization will walk 100 miles in eight days to deliver a petition to Pope Francis during his upcoming U.S. tour. The petition will ask Pope Francis to intercede for undocumented workers in the United States.
Members of Dreamers Moms will start walking on Sept. 16. To honor some undocumented mothers who are in jail, the walk will start outside the York Detention Center in Pennsylvania. It'll end in Washington, D.C. During the walk, participants will share life stories of undocumented workers living in the United States.
The women in Dreamers Moms, who've worked on the petition since 2013, have already submitted a copy of the petition to a church in Miami. They plan to give the pope his copy in September in Washington.
Pope Francis will begin his U.S. tour on Sept. 22. He hasn't confirmed an appointment with Dreamers Moms' leaders, but they hope they can see him nevertheless.
"We have done whatever … is in our hands to get a space … (on) Pope Francis' agenda, but we haven't settled anything yet," Saucedo was quoted by Univision as saying. "It will be a dream come true if we make it happen."
To support the movement via social media, follow Dreamers Moms on Twitter @DreamersMOMS and use the hashtag #BeOurVoice.