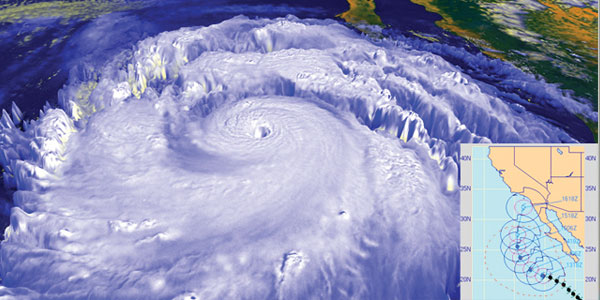 By Paula Alzate
El Servicio Nacional Meteorológico informó que el huracán Linda, una tormenta de categoría 2 en la de cinco puntos en la escala de Saffir -Simpson se dirige hacia México .
Linda se está moviendo hacia el noroeste a 22 kilómetros por hora, con vientos de un poco más de 155 kilómetros por hora, según los pronósticos.
Los estados mexicanos de Baja California Sur , Sinaloa , Nayarit y Jalisco han sido advertidos para actuar con precaución.
Las autoridades han implementado medidas de seguridad en la zona y evacuaron los lugares más peligrosos ya que la tormenta pasó de una tormenta tropical a un huracán el domingo (6 de septiembre).
---
Hurricane Linda expected to hit  Mexican coast
The National Weather Service is reporting that Hurricane Linda, a Category 2 storm on the five-point Saffir-Simpson hurricane wind scale, is headed toward Mexico.
Linda is moving northwest at 22 kilometers per hour, with sustained winds of 155 kilometers per hour, according to forecasts.
The Mexican states of Baja California Sur, Sinaloa, Nayarit and Jalisco have been advised to exercise caution. Authorities have implemented security measures in the area and evacuated the most potentially dangerous places since the storm was rapidly upgraded on Sunday (Sept. 6) from a tropical storm to a hurricane.