Inician campaña para llevar al Presidente a juicio
Inspirados por la reciente renuncia del presidente guatemalteco Otto Pérez Molina debido a la presión pública sobre un escándalo político, varias organizaciones mexicanas y activistas han iniciado una campaña exigiendo que renuncie el presidente mexicano Enrique Peña Nieto.
La campaña incluye una petición apoyando la demanda de que Peña Nieto sea llevado a juicio. La petición se encuentra en línea en www.change.org , está disponible en varias localidades por todo México, y ya ha sido firmada por 29,648 personas, y se agregan más firmas diariamente.
"Queremos justicia", dijo un residente de la ciudad de México que desea permanecer anónimo. "Enrique Peña Nieto merece ser castigado. Él ha traído caos e inestabilidad a México. Podemos repasar las cosas que ha hecho, incluyendo Atyozinapa, la falta de control de drogas, la reforma (de energía) y la horrible economía. Él es culpable de muchas cosas y merece ser juzgado".
Para firmar la petición, visite https://www.change.org/p/firma-para-llevar-al-presidente-enrique-peña-nieto-a-prisión-basta-ya-de-corrupción-y-abusos?recruiter=377607792.
La campaña ya ha tomado varias calles en México y ha generado una considerable participación en los medios sociales.
Cuando vi esta campaña en Facebook la empecé a compartir con todos mis amigos", dijo Adolfo García, un ciudadano mexicano que reside en Estados Unidos. "Quiero que todos la firmen, no es posible que cerramos los ojos. Peña Nieto es el presidente más corrupto que el país (México) haya tenido y necesita renunciar".
El gobierno mexicano no ha publicado ninguna declaración con respecto a esta campaña.
_________________________________________________________________________________________________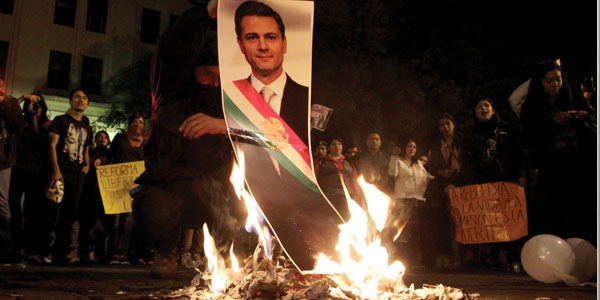 Mexicans demanding Pena Nieto's resignation
By Chara
Campaign started to take president to court
Inspired by the recent resignation of Guatemalan President Otto Perez Molina because of public pressure over a political scandal, several Mexican organizations and activists have started a campaign demanding that Mexican President Enrique Pena Nieto (Peña Nieto in Spanish) resign.
The campaign includes a petition supporting the demand that Pena Nieto be taken to court. Found online at www.change.org and available at various locations across Mexico, the petition has already been signed by 29,648 people, with more signatures being added each day.
"We want justice," an anonymous Mexico City resident said. "Enrique Pena Nieto deserves to be punished. He has brought chaos and instability to Mexico. We can go over all the things he has done, including Atyozinapa, the lack of drug control, the … (energy) reform (scandal) and the horrible economy. He is guilty of many things and he deserves to go to court."
To sign the petition, visit https://www.change.org/p/firma-para-llevar-al-presidente-enrique-peña-nieto-a-prisión-basta-ya-de-corrupción-y-abusos?recruiter=377607792.
The campaign has already taken over several streets in Mexico and has generated considerable engagement on social media.
"Whenever I saw this campaign on Facebook, I started sharing it with all my friends," said Adolfo Garcia, a Mexican citizen residing in the United States. "I want everyone to sign it. It is not possible that we close our eyes. Pena Nieto is the most corrupt president that the country (Mexico) has ever had and he needs to resign."
The Mexican government hasn't released any statement regarding this campaign.