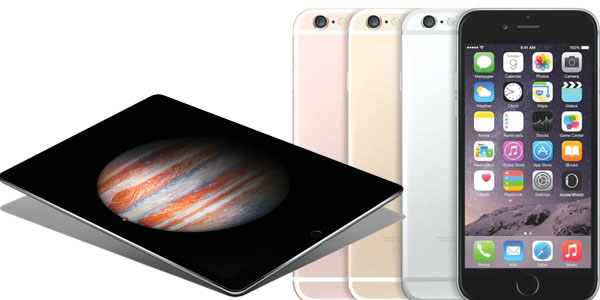 El 9 de septiembre, el director ejecutivo de Apple, Tim Cook realizó un evento en California para revelar el iPhone 6S, iPhone 6s plus, la nueva iPad Pro y lo más reciente en Apple TV.
Los nuevos modelos de iPhone estarán disponibles el 25 de septiembre en las tiendas de Apple. El iPhone 6s y el iPhone 6s Plus estarán disponibles en cuatro colores: oro rojo, plateado, gris y dorado. A diferencia del previo iPhone 6, los nuevos modelos no se doblarán gracias al nuevo material llamado aluminio serie 7000.
Otras características de la iPhone 6s y iPhone 6s Plus incluye Live Photos (fotos en vivo), una aplicación que le permite a los usuarios mezclar fotos y videos. Otra nueva característica es el nuevo programa de actualización del iPhone que les permite a los usuarios rentar un iPhone por $32 al mes.
El iPad Pro es la iPad más grande en el mercado con una pantalla de 12.9 pulgadas. Además, la iPad más nueva de Apple tiene un procesador de A9X 64-bit, y una batería de 10 horas. También tiene un Apple Pencil (lápiz). De acuerdo con varias reseñas, el Apple Pencil se siente como un verdadero lápiz.
Las características de la Apple TV más reciente incluyen un nuevo remoto, Siri y un renovado sistema operativo. La Apple TV viene en dos modelos -una versión de 36 GB por $149 y una versión de 64 GB por $199.
Para realizar órdenes por adelantado de productos Apple, visite  www.apple.com.
____________________________________________________________________________________________________
Apple unveils new iPhones, iPad, TV
By Chara
On Sept. 9, Apple CEO Tim Cook hosted an event in California to unveil the iPhone 6s, the iPhone 6s Plus, the new iPad Pro and the latest Apple TV.
The new iPhone models will be available on Sept. 25 at Apple stores. The iPhone 6s and iPhone 6s Plus will be available in four colors: rose gold, silver, gray and gold. Unlike the previous iPhone 6, the new models won't bend because of a new material called 7000 series aluminum.
Other iPhone 6s and iPhone 6s Plus features include Live Photos, an application that allows users to blend photos and videos. Another new feature is the new iPhone Upgrade program that allows users to lease an iPhone for $32 per month.
The iPad Pro is the largest iPad in the market with a 12.9-inch screen. In addition, Apple's latest iPad has an A9X 64-bit processor and a 10-hour battery. It also has an Apple Pencil. According to several reviews, the Apple Pencil feels like a real pencil.
Features of the latest Apple TV include a new remote, Siri and a renovated operating system. The Apple TV will come in two models – a 36-gigabyte version for $149 and a 64-gigabyte version for $199.
To preorder Apple products, visit www.apple.com.