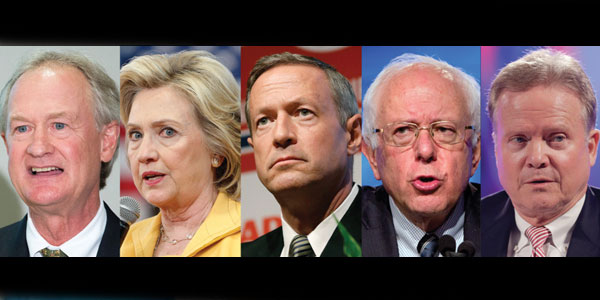 El próximo 13 de Octubre se realizara en el hotel Wynn de Las Vegas el debate presidencial demócrata. La lista de invitados no es tan extensa como lo ha sido del lado republicano, que hasta necesito dos debates. El primero con los candidatos con menor intención de votos y un segundo debate con los 11 candidatos mejor ubicados en las encuestas.
Hasta el momento se sabe que CNN invito a participar del debate a Lincoln Chafee, Hillary Clinton, Martin O'Malley, Bernie Sanders, y Jim Webb.  Esto puede cambiar repentinamente si el Vicepresidente de los Estados Unidos, Joe Biden, decide finalmente postularse para conseguir la candidatura presidencial ya que en este caso la invitación también seria extendida a él.
Clinton y Sanders están en la sima de todas las encuestas. La esposa del Ex Presidente Bill Clinton, arrasa en todas las encuestas con una diferencia de 7 a 18 puntos por encima de Sanders. El resultado de las encuestas podría cambiar con una postulación oficial y publica de Biden. Aunque el Vicepresidente no haya aun decidido su candidatura cuenta con el apoyo de un impactante 17 a 25% del electorado.
Teniendo en cuenta el retroceso en las encuestas para Clinton, la adición de intención de votos para Sanders y la posible candidatura de Biden, no sería asombroso que Sanders o Biden sobrepasen a quien actualmente sería la candidata por el partido demócrata.
En la mayoría de los casos la falta de decisión o la demora en la decisión de un candidato impactaría negativamente la candidatura. En este caso la situación es diferente ya que Biden ha sido muy honesto y público en cuanto a la razón por la cual esta decisión le es tan difícil de hacer. Joe Biden y su esposa sufrieron la muerte de su hijo mayor en Mayo de este año.
_________________________________________________________________________________________________
Democratic presidential debate smaller than GOP debates
Analysis by Derby
The first Democratic presidential debate is scheduled for Oct. 13 in the Wynn Hotel in Las Vegas, Nev. The number of candidates invited to debate is significantly smaller than the numbers for the Republican presidential debates.
The Republican Party had to split one debate into two sessions. There was the "Happy Hour Debate," as many have called it, featuring the candidates with the least support, followed by the debate with the top 11 candidates.       
The candidates officially invited to the Democratic debate are as follows: Lincoln Chafee, Hillary Clinton, Martin O'Malley, Bernie Sanders and Jim Webb. This short list could change if Vice President Joe Biden declares his candidacy.
Clinton and Sanders are the front-runners. Clinton, the former U.S. secretary of state, senator and first lady, leads Sanders by between 7 and 18 percent, depending on the poll. But those numbers could change significantly if Biden declares his candidacy. Biden is third in the polls overall, even though hasn't officially declared his candidacy.
In most cases, a potential candidate's indecision can negatively impact his chances of being elected. But in Biden's case, the reality is different. Biden has been open and honest about why he's having difficulty deciding: He and his wife are grieving over the death of their oldest son, who died in May.
Considering the decline of Clinton's numbers, the growth of Sanders' support and Biden's possible candidacy, it wouldn't be surprising to see Sanders and Biden overtake Clinton later in the game – if Biden chooses to run.