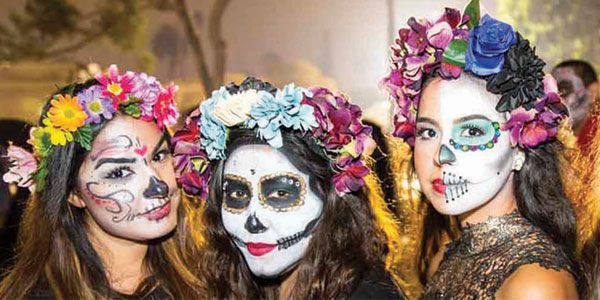 El 1º  y 2 noviembre son dos de los días más importantes para los mexicanos que tienen seres queridos fallecidos.
En ambos días, los mexicanos celebran el Día de los Muertos. Se piensa que los niños mexicanos que han fallecido visitan a sus familias el 1º de noviembre y los adultos visitan a sus seres queridos el 2 de noviembre. Otros países latinoamericanos también celebran el día festivo, entre ellos Ecuador, Guatemala y Brasil.
Mucha gente piensa que los mexicanos (y otros latinoamericanos) solamente honran a los muertos durante el Día de los Muertos, sin embargo, no es así.
Quienes celebran el Día de los Muertos también celebran la historia y la cultura mexicanas (y la latinoamericana). El Día de los Muertos combina los rituales indígenas aztecas con el catolicismo. Como prueba, uno solamente necesita examinar los altares que la gente coloca el Día de los Muertos para honrar a sus seres queridos fallecidos. Este ritual del Día de los Muertos es un resultado de la colonización española en Latinoamérica.
Hablando de los altares, aquí presentamos más historias sobre ellos.
Los elementos de un altar varían dependiendo de la región. La mayoría de los altares tienen calaveras de azúcar o chocolate que representan a los familiares fallecidos., Sin embargo, los altares tradicionalmente tienen la comida favorita de quienes son honrados, un plato con sal para purificar el alma, y agua y flores para guiar a los fallecidos. Otros artículos pueden incluir juguetes para los niños y artículos personales que le gustaban a los fallecidos. Uno de los elementos más importantes en el altar es el pan de muerto tradicional. Este pan es un símbolo de generosidad.
Desafortunadamente, mucha gente está cambiando y distorsionando el Día de los Muertos, y al hacerlo, están distorsionando muchas tradiciones valiosas. Uno de los errores más comunes que la gente hace durante el Día de los Muertos es combinar este importante día festivo el día de las brujas. Ambos días festivos tienen sus propias tradiciones especiales y deben celebrarse separadamente.
Si usted celebra el Día de los Muertos, mantenga sus tradiciones y ayude a mantenerlas vivas. Al hacerlo, usted honrará a sus seres queridos con uno de los días festivos más enriquecedores en el planeta, un día festivo que permanece importante para millones de mexicanos y otros latinoamericanos.
_________________________________________________________________________________________________
What's behind Dia de los Muertos?
Commentary by Chara
Nov. 1 and 2 are two of the most important days for Mexicans with deceased loved ones.
On both days, Mexicans observe the holiday Dia de los Muertos (Day of the Dead). It's believed that Mexican children who've died visit their families on Nov. 1 and adults visit their loved ones on Nov. 2. Other Latin American countries also observe the holiday, including Ecuador, Guatemala and Brazil.
Many people think that Mexicans (and other Latin Americans) only honor the dead during Dia de los Muertos. However, they're mistaken.
Those who observe Dia de los Muertos also honor Mexican (and Latin American) history and culture. Dia de los Muertos combines indigenous Aztec rituals with Catholicism. As proof, one only need to examine the altars people set up on Dia de los Muertos to honor their deceased loved ones. This Dia de los Muertos ritual is a result of the Spanish colonization of Latin America.
Speaking of the altars, here's some more background on them.
An altar's elements vary, depending the region. Most altars have sugar or chocolate skulls representing the deceased family members. However, altars traditionally have the favorite food of those who are being honored, a plate with salt to purify the soul, and water and flowers to guide the deceased. Other items might include toys for the children and personal articles the deceased liked. One of the most important elements on the altar is the traditional pan de muerto (dead's bread). This bread is a symbol of generosity.
Unfortunately, many people are changing and distorting Dia de los Muertos – and in doing so, are distorting its many rich traditions. One of the most common mistakes people make during Dia de Muertos is to combine this important holiday with celebrating Halloween. Both holidays have their own special traditions and should be observed separately.
If you observe Dia de los Muertos, maintain its traditions and help keep them alive. By doing so, you're honoring your loved ones with one of the most enriching holidays on Earth – a holiday that remains important to millions of Mexicans and other Latin Americans.