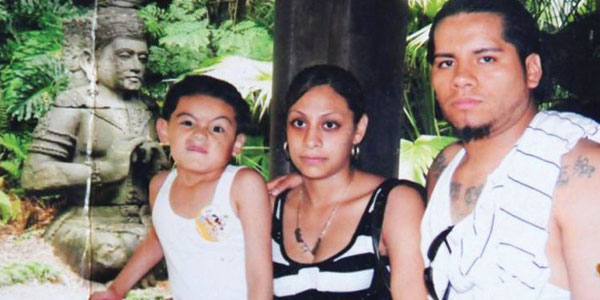 Al inmigrante mexicano Rubén Zamora se le ha negado una visa a Estados Unidos para reunirse con su esposa e hijos debido a sus tatuajes.
De acuerdo con el reporte de New York Daily News, Zamora fue rechazado porque las autoridades consulares de Estados Unidos pensaron que sus tatuajes estaban relacionados con pandillas. Zamora afirma que él obtuvo sus tatuajes a los 16 años porque pensó que se veían bien..
Un inmigrante indocumentado que ha vivido en Estados Unidos desde los ocho años, Zamora se casó con la ciudadana Vanessa Ruíz en el 2009. Ellos tienen dos hijos.
En julio del 2014, Zamora solicitó el estado legal en Estados Unidos. Al seguir el proceso de la solicitud, tuvo que ir a un consulado en México, Alli, las autoridades le negaron su solicitud de la visa, diciendo que sus tatuajes estaban relacionados con pandillas.
El Departamento de Estado ha apoyado la decisión del consulado, diciendo que es probable que Zamora sea parte de una pandilla. Se piensa que sus tatuajes están conectados con la pandilla de los Sureños. Sin embargo, amigos, familiares y compañeros de trabajo dicen que Zamora nunca ha estado relacionado con ninguna actividad pandillera.
Los abogados de Zamora están apelando su caso. Mientras tanto, Ruíz está teniendo dificultades sin su esposo, quien aún tiene la esperanza de que retroceda la decisión en su caso. Según se dice ella está pasando por problemas económicos y emocionales.
"Me rompen el corazón… Nuestros dos hijos, Ryan de 10 años y Aiden de tres años están teniendo dificultades al estar sin su papá", se citó recientemente a Ruíz por parte de Fusion. "Me preguntan todos los días: "¿Cuándo va a regresar mi papá?". Y no se cómo explicárselos".
Zamorano no es la primera persona a quien se le niega visa por tener tatuajes. Un caso similar es el de Héctor Villalobos de Colorado, quien no puede regresar a Estados Unidos debido a que sus tatuajes tienen orígenes de pandillas.
---
Immigrant separated from family because of tattoos
By Chara
Mexican immigrant Ruben Zamora has been denied a U.S. visa to reunite with his wife and children because of his tattoos.
According to a New York Daily News report, Zamora was rejected because U.S consulate officials thought his tattoos were gang-related. Zamora claimed he got his tattoos at age 16 because he thought they were "cool."
An undocumented immigrant living in the United States since age 8, Zamora married U.S. citizen Vanessa Ruiz in 2009. They have two children.
In July 2014, Zamora applied for legal status in the United States. In following the application process, he had to go to a consulate in Mexico. There, officials denied his visa request, claiming his tattoos were gang-related.
The State Department has supported the consulate's decision, saying it's probable that Zamora is a gang member. His tattoos are believed to be connected with the Surenos gang (Sureños in Spanish). However, friends, family and co-workers claim that Zamora has never been connected with any gang activity.
Zamora's lawyers are appealing his case. Meanwhile, Ruiz is struggling without her husband, who's still hoping the decision on his case will be reversed. She is reportedly going through economical and emotional difficulties.
"They broke my heart…. (Our) two sons, Ryan, 10; and Aiden, 3, are struggling without their dad," Ruiz was recently quoted by Fusion as saying. "They ask me every day, 'When is papa going to come home?' And I don't know how to explain it to them."
Zamora isn't the first person to be denied a visa for having tattoos. A similar case is that of Hector Villalobos of Colorado, who can't return to the United States because his tattoos have gang origins.