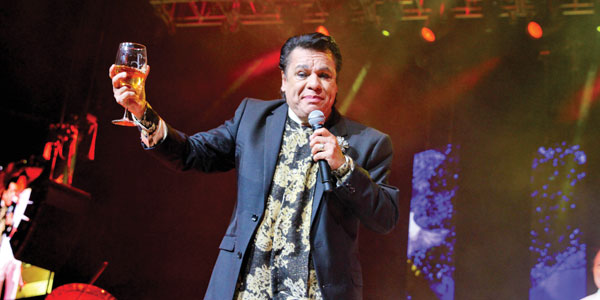 El sábado 7 de noviembre Kansas City recibió a Juan Gabriel en el Spring Center.
El show de dos horas y 40 minutos hizo que la gente cantara y bailara con sus canciones.
"El es un showman," dijo Luis Merlo, residente de Kansas City quien atendió el evento. "El atrae la atención de la gente, fue un show muy bueno."
Algunas de las características incluyeron el dueto que hizo con Zona Prieto, una banda colombiana de cinco integrantes, y el tradicional mariachi mexicano.
"Podías ver que estaba emocionado," dijo Merlo. "Le agradeció a la gente que se sabia las canciones y había mucha gente de varios países."
El concierto fue un éxito y según Merlo, Kansas City espera verlo pronto.
__________________________________________________________________________________________________________
Juan Gabriel: success in Kansas City
By Paula Alzate
On Saturday (Nov. 7) Kansas City received Juan Gabriel at the Spring Center.
The two hour and 40 minutes show brought people to sing and dance to his music.
"He is a showman," said Luis Merlo, Kansas City Kan., who attended the show. "He catches people's attention it was a very good show."
Among the features include the duet he did with Zona Prieta, a Colombian five-member group, and the traditional Mexican mariachi.
"You could see he was excited," said Merlo. "He thanked people for knowing his songs and people from different countries were there."
The concert was a success and according to Merlo, Kansas City hopes to see him back again.