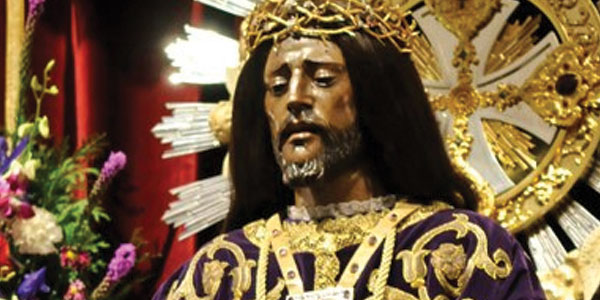 Sólo los viernes se puede subir al segundo piso, detrás del altar, a tocar el Cristo de larga cabellera en la Basílica de Jesús de Medinaceli en Madrid.
Hay largas colas para entrar. Pero la espera sirve para discutir, entre amigos y desconocidos, desde el último partido de fútbol hasta las elecciones para escoger presidente del gobierno el próximo 20 de diciembre. Una hora de fila fue, para mí, una lección en el arte de discutir.
Al entrar a la iglesia lo primero que ven los feligreses es un puesto de lotería para el premio "gordo" de Navidad. Ahí continúa la discusión. Si no se cumplen las plegarias al cielo, siempre hay — con un poquito de suerte y un billete de lotería — una segunda oportunidad.
Pero más que de santos, lo que me interesa es hablar del poder salvador de la conversación. España es el país de las tertulias y, gracias a eso, mantiene su carácter democrático. El mejor antídoto para a los autoritarismos, y para los adictos al celular, es la conversación viéndose a los ojos.
Los españoles discuten y discuten y no pasa nada. Eso es buenísimo. No se matan ni se caen a golpes. Sólo discuten. A veces coinciden, otras no. Pero desde niños han aprendido la importancia de argumentar y de ser tolerantes. Está en su forma de ser.
En los últimos dos meses — viajando entre Madrid, Barcelona, Sevilla y Granada — he escuchado tertulias de todo tipo en la radio y la televisión; desde cotilleos de la prensa rosa hasta la mejor manera de prevenir ataques terroristas de ISIS en Europa. No hay tema prohibido. Bueno, quizás los reyes y esos pactos no escritos de algunos medios de comunicación con el poder. Pero en general las discusiones que escuché fueron bastante libres y espontáneas.
Hasta el casi imposible asunto de la independencia de Cataluña es discutible. No hay tanques en las Ramblas pero sí mucha política. Y está bien. Para eso sirven los políticos: para encontrar soluciones a problemas que no parecen tener solución. ¿Hay acaso un problema más difícil que cuando alguien se quiere ir de casa?
En España la tertulia se ha convertido, también, en la manera preferencial para escoger a sus líderes políticos. Por eso llama la atención la negativa del presidente del gobierno español a participar en los debates televisivos. Mariano Rajoy se rajó de los debates. ¿Por qué? Por miedo a verse mal ante los tres candidatos opositores — Pedro Sánchez del PSO, Albert Rivera de Ciudadanos y Pablo Iglesias de Podemos. Los tres son más jóvenes que Rajoy y mucho más diestros en la esgrima verbal.
En cualquier otro país, sería prácticamente descalificado de la contienda el candidato que se negara a participar en un debate. Pero en el peculiar caso de Rajoy, a quien nadie le recuerda un buen discurso o entrevista, quizás su estrategia antitertuliana funcione. Ya veremos el 20 de diciembre.
Hay muchas cosas buenas que puedo decir de la marca España: se come maravillosamente bien (como en México, Perú, Italia, Singapur y China) y se toman muy en serio la hora de la comida; adoro su jamón serrano, su aceite de oliva, sus carabineros, el arroz de Casa Benigna y las alcachofas de Lago de Sanabria; aquí juegan los mejores equipos de fútbol del mundo (Barca y Real Madrid); un país de 46 millones de habitantes con 60 millones de turistas extranjeros al año debe tener muchos imanes; su estilo de vida ha permitido a los españoles celebrar muchos cumpleaños — más de 82 en promedio — y ser de los más longevos del planeta; hay pocos sitios como España donde los jóvenes pueden salir con seguridad (pregúntenle a mi hija Paola, quien pasó en Madrid su infancia y adolescencia); a pesar del desempleo, inseguridad laboral y corrupción, hay un consenso en mantener las redes de protección social; y ejemplarizante para mí — y el tema de esta columna — es esa maravillosa disposición a platicar.
Los españoles han aprendido bien de su historia. En cada tertulia parecen reafirmar esa decisión plural de rechazar los abusos del franquismo y de cualquier imposición. Pocos pueblos han pasado en sólo unas generaciones de una férrea dictadura a una democracia tan saludable. Y mi teoría es que lo hicieron discutiendo. Todo.
Hay, desde luego, muchas cosas que no funcionan en España. Sin embargo, están perfeccionando el método para encontrar soluciones colectivas. Muchos españoles, desde luego, no estarán de acuerdo conmigo. Pero eso es precisamente lo que espero de ellos (incluso en la fila entrando a la iglesia).
(Jorge Ramos, periodista ganador del Emmy, es el principal director de noticias de Univision Network. Ramos, nacido en México, es autor de nueve libros de grandes ventas, el más reciente de los cuales es "A Country for All: An Immigrant Manifesto.")
(¿Tiene algún comentario o pregunta para Jorge Ramos? Envíe un correo electrónico a Jorge.Ramos@nytimes.com. Por favor incluya su nombre, ciudad y país.)
---
Spain: The Land of Debate
By Jorge Ramos
On Fridays, people are allowed to line up to touch the statue of Christ in Madrid's historic Basilica of Jesus of Medinaceli. And every Friday, the lines are always long.
  As people wait, conversations among friends and strangers run the gamut — from the latest soccer match to the next elections. For me recently, waiting in this line for an hour was a lesson in the art of discussion.
  Upon entering the church, the faithful pass a stand where they can buy tickets for the Spanish Christmas lottery — "El Gordo," the big one, as it's called. The message seems to be: If your prayers go unanswered, you can buy a lottery ticket and get another shot.
  But I'd much rather talk about the power of debate than of prayer. Spain is the land of polemics — which has helped maintain its democratic nature. After all, the best antidote against authoritarianism (and smartphone junkies) is speaking face-to-face.
  And Spaniards are constantly engaged in debates and arguments. If they fundamentally disagree on something, they don't resort to physical violence. They simply continue their discussions. Since early childhood, it seems, the Spanish have learned the importance of both disagreement and tolerance.
  In the last couple of months, I have been to Madrid, Barcelona, Seville and Granada, and I've heard all sorts of debates in person, on the radio and on TV. No topic is off-limits for Spaniards. (Well, maybe the exceptions are the royal family and the conflicts of interest that exist between some media outlets and government — but everything else is up for debate.)
  Spaniards might even discuss the sensitive, and almost unresolvable, issue of Catalonia's independence. No tanks rumble on the streets of Barcelona, but political discussions abound about this region's desire for independence. Of course, this is precisely what politics is about — finding solutions to problems that seem to have no solution.
  In Spain, discussions and debates have also become the preferred way of choosing which political leader to support. That's why Prime Minister Mariano Rajoy's recent refusal to take part in national political debates is surprising.
  Why wouldn't the president want to debate? Is he afraid that he might look bad in front of his three rival candidates? After all, these candidates — Pedro Sanchez from the Spanish Socialist Workers Party, Albert Rivera from the Citizens of Catalonia Party, and Pablo Iglesias from Podemos — are all younger than Rajoy. Maybe they're more skillful too in verbal fencing?
  In any other country, a candidate's refusal to participate in a debate would all but disqualify him from running for president. But who knows? In Rajoy's case (no one has heard him give a powerful speech or great interview recently), an anti-debate strategy might work. We'll have to wait until the Dec. 20 elections are over to find out.
  Now, I can say many good things about the Spanish way of life. You can eat extremely well (I have also found this to be true in places like Mexico, Peru, Italy, Singapore and China), and the Spanish take their mealtimes extremely seriously. I do love eating at Casa Benigna in Madrid, and the artichokes at Lago de Sanabria are great. The world's best soccer teams in the world play in Spain: FC Barcelona and Real Madrid. A country with 46 million inhabitants but 60 million tourists a year must be doing something right.
  Spaniards also are among the longest-living people on the planet. And there are few places that youngsters can go out and be quite as safe as they are in Spain (just ask my daughter, Paola, who spent her childhood and early teenage years in Madrid). Additionally, despite the high unemployment rate, job uncertainty and political corruption, the public supports preserving the country's social safety net. And then there's that wonderful willingness to engage in heated discussions.
  Spaniards have also learned many lessons from their past. At every social gathering, they seem to uphold that collective decision to reject the Franco regime's abuses and never revisit them. Few populations have come as far as the Spaniards — from a harsh dictatorship to a healthy democracy — in the course of a few generations.
  Not everything is perfect in Spain, but the devotion to debate is helping people come up with collective solutions to stubborn problems. Many Spaniards would probably disagree with me on that point, though that's precisely what I'd expect.