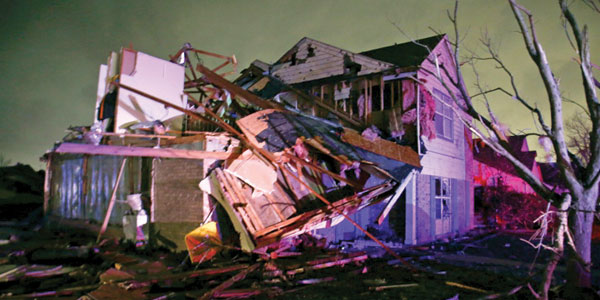 El domingo 27 de diciembre, el Servicio Meteorológico Nacional informó tres tornados en todo el área de Dallas – Fort Worth , incluyendo uno clasificado como EF- 4 en la escala de Fujita Mejorada.
Las tormentas causaron daños importantes , mataron a 11 personas y dejaron a muchos residentes del área de Dallas- Fort Worth sin hogar. Según varios informes de prensa , cuatro áreas al sur de Dallas experimentaron granizo de tamaño de un cuarto y vientos severos . CNN informó que la metrópoli de Texas experimentó un descenso de 41 grados Fahrenheit de la temperatura en 24 horas.
Texas no fue el único estado que experimentó el mal tiempo el domingo – y parte del lunes (28 de diciembre). De acuerdo con el Servicio Meteorológico Nacional, también se reportaron tornados en Mississippi, junto con clima invernal severo en Oklahoma , Kansas y Missouri.
________________________________________________________________________________________________________
Severe weather hits part of the U.S.
By Paula Alzate
On Sunday (Dec. 27), the National Weather Service reported three tornadoes around the Dallas-Fort Worth area, including one classified as an EF-4 on the Enhanced Fujita Scale.
The storms caused significant damage, killed 11 people and left many Dallas-Fort Worth area residents homeless. According to various news reports, four areas south of Dallas experienced quarter-size hail and severe winds. CNN reported that the Texas metropolis experienced a 41-degree Fahrenheit temperature drop over 24 hours as part of the severe weather outbreak.
Texas wasn't the only state that experienced severe weather on Sunday – and part of Monday (Dec. 28). According to the National Weather Service, tornadoes in Mississippi also were reported, along with severe winter weather in Oklahoma, Kansas and Missouri.