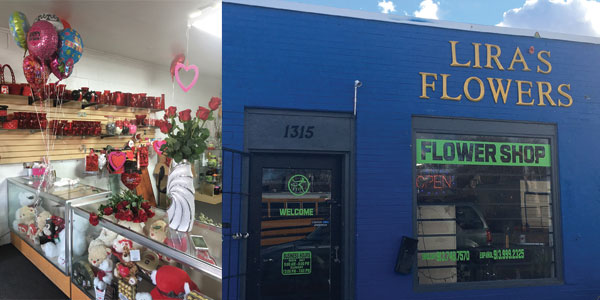 Sara Lira ha encontrado su vocación en una edad temprana.
"Trabajé en una florería a la edad de 8, y fue entonces cuando supe lo que quería hacer por el resto de mi vida", dijo la residente del área de Kansas City.
Lira no sólo quería trabajar en una florería, sino también tener una tienda de flores. A finales de 2015, ese sueño se volvió realidad cuando abrió Flores Lira, en Kansas City, Kan.
"Una (de) mis amigas me ayudó y me apoyó … con mi idea, así que lo hice," dijo. "Tomé algunas clases y abrí la tienda de flores."
Todas las flores en la nueva tienda de Lira son naturales, dijo. Lira también diseña los arreglos y trabaja para asegurarse de proporcionar al cliente un producto original. Ella también realiza sus habilidades de acuerdo con la temporada. Para la próxima semana o dos, todo se va a centrar en el Día de San Valentín (14 de febrero).
Lira dijo que está ansiosa por ayudar a los que necesitan comprar el regalo del día de San Valentín.
"Uno de mis objetivos es ver a la gente feliz …. (Llevar) felicidad a más de una persona es mi objetivo – y ver corazones con una sonrisa", dijo. "Es muy lindo cuando ves a un marido … llegar a casa con una rosa. Me hace sonreír".
Es cierto que hacer su sueño realidad y hacer sonreír corazones no ha sido fácil para la Lira, una nativa de Veracruz, México, que ha vivido en la zona desde 1997. El viaje desde México a los Estados Unidos solamente fue un reto.
"Es un milagro estar aquí", dijo ella, que ha vivido en la zona desde los 17 años "Me vine como una ilegal (inmigrante). Cuando crucé la frontera, la inmigración me atrapó. Me encontré con unas pocas personas en el camino que me ayudaron a venir a Kansas City. Vine sin dinero, sin papeles, sin nada …. Entonces, empecé mi vida aquí y ahora tengo a mi marido y tres hijas. Son de 3, 12 y 19."
Lira ahora disfruta su tiempo con su marido y sus tres hijas, dijo.
Flores de Lira se está localizado en 1315 Ave. Para obtener más información, llame al (913) 748-7570.
____________________________________________________________________________________________________________________________
Lira pursuing dream with KCK flower shop
By Paula Alzate
Sara Lira found her calling early in life.
"I worked at a florist at the age of 8, and that's when I knew what I wanted to do for the rest of my life," the Kansas City area resident said.
Lira wanted not only to be a florist, but also to own a flower shop. In late 2015, she turned that dream into a reality when she opened Lira's Flowers in Kansas City, Kan.
"One (of) my friends helped me and supported me … (in pursuing) the idea, so I did it," she said. "I took some classes and I opened the flower shop."
All the flowers in Lira's new shop are natural, she said. Lira also designs the arrangements and works to make sure she provides the customer with an original product. She also does her arrangements according to the season. For the next week or two, the season centers on Valentine's Day (Feb. 14).
Lira said she's looking forward to helping those needing to buy a Valentine's Day gift.
"One of my goals is to see people happy….. (Bringing) happiness to more than one person is my objective – and to see hearts smile," she said. "It is very cute when you see a husband … (going) home with a rose. It makes me smile."
Admittedly, making her dream come true and making hearts smile hasn't come easily for Lira, a Veracruz, Mexico, native who has lived in the area since 1997. The journey from Mexico to the United States alone was challenging.
"It is a miracle (I'm here)," said Lira, who has lived in the area since age 17. "I came as an illegal (immigrant). When I crossed the border, immigration caught me. I met a few people on the way who helped me come to Kansas City. I came with no money, no papers, no anything…. Then, I started my life here and I have my husband and three daughters. They are 3, 12 and 19."
Lira's enjoying her time with her husband and three daughters, she said.
Lira's Flowers is located at 1315 State Ave. For more information, call (913) 748-7570.