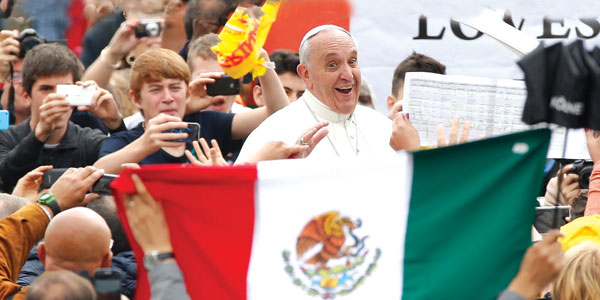 El 12 de febrero, el papa Francisco llegó a México a visitar cinco ciudades en donde cuestiones sociales son preocupaciones dominantes: Ciudad de México, Estado, Michoacán, Chiapas y Chihuahua.
Como parte de la visita, el Papa visitó con el presidente de México, Enrique Peña Nieto, políticos, los miembros de la Conferencia del Episcopado Mexicano y la Arquidiócesis de México, y habló con los jóvenes el martes (16 de febrero).
"Cuando llegué a esta tierra, fui recibido con una cálida bienvenida – y fui capaz de capturar la vitalidad", dijo en el estadio José María Morelos y Pavón. "Uno de los mayores tesoros que esta tierra tiene son los jóvenes …. Ustedes son la riqueza de México. Ustedes son la riqueza de la iglesia ".
Además, el Papa incentivó a los jóvenes para que mantengan vivas sus esperanzas, incluso en situaciones en las que las oportunidades de un cambio positivo parece poco probable.
De acuerdo con fuentes de noticias mexicana, Francisco también llegó a las comunidades para discutir problemas como la violencia contra las mujeres, la desigualdad que sufren los indígenas, inmigración y victimas de drogas y de violencia en el país.
Al cierre de esta edición el miércoles (17 de febrero), Francisco visitó Ciudad Juárez, donde se esperaba celebrar una misa en una iglesia cerca de la frontera EE.UU.-México para orar por los migrantes, víctimas de la violencia y las víctimas de los conflictos de drogas. Fuentes de noticias mexicanos estiman que unas 200.000 personas recibirían la comunión. Esas fuentes también informaron de un servicio conmemorativo que se llevará a cabo para recordar a los migrantes que han muerto.
_______________________________________________________________________________________________________________________
Pope Francis visits Mexico
By Paula Alzate
On Feb. 12, Pope Francis arrived in Mexico to visit five cities where social issues are dominant concerns: Mexico City, Estado, Michoacan, Chiapas and Chihuahua.
As part of the visit, the pope visited with Mexican President Enrique Pena Nieto (Peña Nieto in Spanish), politicians, members of the Mexican Bishops' Conference and the Archdiocese of Mexico, and talked to young people on Tuesday (Feb. 16).
"When I arrived in this land, I was greeted with a warm welcome – and I was able to capture the vitality," he said at the Jose Maria Morelos y Pavon Stadium. "One of the greatest treasures this land has is (its) young people…. You are the wealth of Mexico. You are the wealth of the church."
The pope also encouraged young people to keep their hopes alive, even in situations when the opportunities for positive change seem unlikely.
According to Mexican news sources, Francis also reached out to communities to discuss such problems as violence against women, the inequality suffered by the country's indigenous people, immigration, and drug and crime issues.
At press time on Wednesday (Feb. 17), Pope Francis was visiting Ciudad Juarez, where he was expected to celebrate a Mass in a church next to the U.S.-Mexico border to pray for migrants, victims of violence and victims of drug conflicts. Mexican news sources estimated about 200,000 people would receive communion. Those sources also reported a memorial service would be performed to remember those migrants who had died.