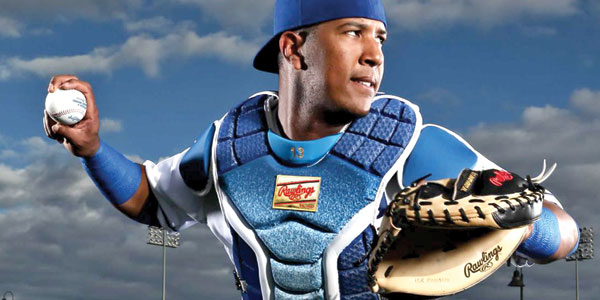 Tal parece que Salvador Pérez y Eric Berry serán parte de la escena profesional deportiva de Kansas City por varios años.
Pérez, quien ayudó a los Royals de Kansas City a ganar la Serie Mundial del 2015, firmó un contrato con una extensión por 5 años. Múltiples fuentes noticiosas reportaron el martes 1º de marzo que el jugador venezolano recibirá $52.2 millones durante ese período.
El miércoles 2 de marzo, el periódico The Kansas City Star reportó que Pérez donaría $1 millón de su salario para la academia de béisbol para jóvenes de Kansas City, Missouri. De acuerdo con The Star, la academia incluirá un campo que llevará el nombre del jugador.
"Muchos niños jugarán en ese campo", se citó a Pérez. "Cuando ven algo como eso, les da motivación".
El columnista Cliff Corcoran de Sports Illustrated reportó que el acuerdo "contiene un bono de $6 millones por firmar". Corcoran estuvo entre quienes cuestionaron el sentido común de los Royals al darle a Pérez la extensión del contrato, a pesar del impacto que tuvo Pérez en el equipo. Él encontró difícil de entenderlo en parte porque Kansas City aún tenía a Pérez bajo contrato por 3 años más, con el salario de Pérez llegando a su máximo nivel ($6 millones) en el 2019. La salud de Pérez fue otra inquietud para Corcoran.
"Debido a su altura de 6'3", y peso de 240 libras es un gran blanco detrás de la base, Pérez toma más de su parte de abuso de las foul balls and back swings, poniéndolo en alto riesgos para contusiones, las probabilidades de lo cual podría forzarlo a cambiar posiciones y dramáticamente entorpecer su valor para los Royals", escribió él en un artículo publicado el martes en SI.com.
Berry, quien se recuperó de una temporada con linfoma para ayudar a los Chiefs de Kansas City a llegar a los playoffs de la AFC esta temporada pasada, fue nombrado jugador del franchise el martes por parte de los Chiefs. John Dorsey, director general, habló sobre la acción en un comunicado de prensa del equipo.
"Nuestra meta es mantener a Eric en Kansas City para el futuro predecible", dijo Dorsey sobre Berry, quien está entrando a su séptima temporada con los Chiefs. "Él es un jugador especial que significa mucho para nuestra organización, la ciudad -y él ha sido una parte importante al formar nuestra fundación".
__________________________________________________________________________________________________
Perez signs multiyear deal, Berry named franchise player
Compiled by the Dos Mundos Sports Staff
It appears Salvador Perez and Eric Berry will be part of Kansas City's professional sports scene for several more years.
Perez, who helped the Kansas City Royals win the 2015 World Series, signed a five-year contract extension. Multiple news sources reported on Tuesday (March 1) that the native Venezuelan catcher would receive $52.2 million for that time period.
On Wednesday (March 2), The Kansas City Star reported Perez would donate $1 million from his salary to a Kansas City, Mo., baseball academy for urban youngsters. According to The Star, the academy will include a field named after the ballplayer.
"A lot of kids will (play) there on that field," Perez was quoted as saying. "When they see something like that, it gives them motivation."
Sports Illustrated columnist Cliff Corcoran reported the agreement "comes with a $6 million signing bonus." Corcoran was among those who questioned the Royals' judgment in giving Perez the contract extension, despite Perez's impact on the ballclub. He found it difficult to understand partly because Kansas City still had Perez under contract for three more years, with Perez's salary to reach its maximum level ($6 million) in 2019. Perez's health was another concern to Corcoran.
"Because his 6'3", 240-pound frame is such a big target behind the plate, Perez takes more than his share of abuse from foul balls and back swings, putting him at high risk for concussions, the likes of which could force him to change positions and dramatically undermine his value to the Royals," he wrote in a piece posted on Tuesday at SI.com.
Berry, who rebounded from a bout with lymphoma to help the Kansas City Chiefs make the AFC playoffs this past season, was named a franchise player on Tuesday by the Chiefs. John Dorsey, general manager, commented on the move in a team press release.
"Our goal is to keep Eric in Kansas City for the foreseeable future," Dorsey said of Berry, who's entering his seventh season with the Chiefs. "He's a special player that means a lot to our organization, the city – and (he) has been a critical piece in building our foundation."