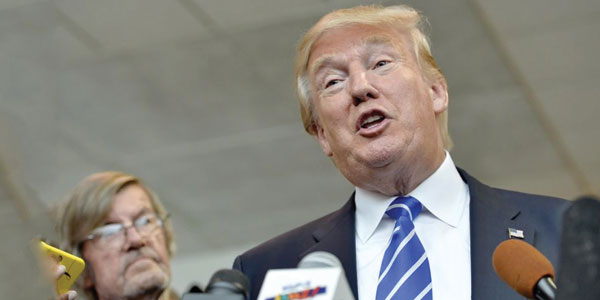 Es posible haber llegado al momento en el que sería aceptable decir que Donald J. Trump será el candidato republicano a la presidencia.
Después del primer "Super Tuesday" (Marzo 2), Trump se encontraba ya bien posicionado para ganar la nominación de su partido; aunque, existía esperanza que algún otro candidato diera vuelta la situación. Esto cambió significativamente después del Segundo "Super Tuesday" (Marzo 8).
La frase "Trump puede ser derrotado" ya no es tan creíble como fue en algún momento.
Originalmente, Ben Carson sería el candidato que derrotaría a Trump. Esta teoría fue eliminada rápidamente. Después, los expertos esperaban que Jeb Bush tome ese rol. Pero Bush se bajó.
Finalmente, el candidato de oro pasó a ser Marco Rubio. Todos aseguraban que el Senador de Florida derrotaría a Trump. Pero yo ya no me la creo.
"Ahora quién podrá defendernos?" me pregunto, Ted Cruz – y si es que Cruz tiene alguna chance es muy chica. Ganar la nominación suena como una misión imposible para el texano.
Las constantes victorias de Trump, inclusive en la última semana, solidificaron su posición de ser el candidato más probable de ganar la interna republicana. Nos encontramos a menos de una semana de la interna de Florida, en donde el ganador se lleva todos los delegados. Desafortunadamente, para los otros candidatos, en las últimas encuestas Trump lleva la delantera en el estado de Florida.
Es posible que sea tiempo que el partido republicano asuma que Trump será su candidato. Sigue informándote con Dos Mundos. Es probable que estemos a menos de una semana de saber quién se enfrentara contra el candidato demócrata – Hillary Clinton o Bernie Sanders.
_______________________________________________________________________________________________________
Is Trump the Republican nominee?
Commentary by Dermidio Juez-Perez
Maybe we Americans have reached the point when it's O.K. to say Donald J. Trump will be the Republican nominee for president.
After the first Super Tuesday (March 2), Trump was well-positioned to win the nomination; however, hope remained for another candidate to make a comeback. That changed significantly following the second Super Tuesday (March 8).
The phrase "Trump can be beaten" isn't as believable anymore.
Originally, it was thought that Ben Carson would defeat Trump. That theory, however, was quickly disproved. Later, political experts thought Jeb Bush would make a comeback to take the nomination. Bush is no longer a candidate.
Then, a few weeks ago, the golden child was Marco Rubio. It was believed the U.S. senator from Florida would defeat Trump. I, for one, don't believe that'll happen.
Who's left with a chance to defeat the biggest bully of all? Ted Cruz – and even his chances are slim. Sure, Cruz has a great chance to finish as the runner-up. But winning the nomination seems far-fetched for the Texan.  
Trump's consistent victories, including those over the past week, have solidified his position as the candidate most likely candidate to win the Republican nomination. At press time, there's less than a week before the Florida primary, where winner takes all. Unfortunately, for the other candidates, the latest polls show Trump winning Rubio's home state.
 It might be time for the Republican Party – and Americans in general – to assume that Trump will be the GOP candidate. So check back soon. We're probably less than a week away from knowing who'll run against the Democratic Party nominee – Hillary Clinton or Bernie Sanders, who seems unlikely to win.
Yes, maybe we've reached the point where it's O.K. say who the presidential nominees for both major American parties will be.