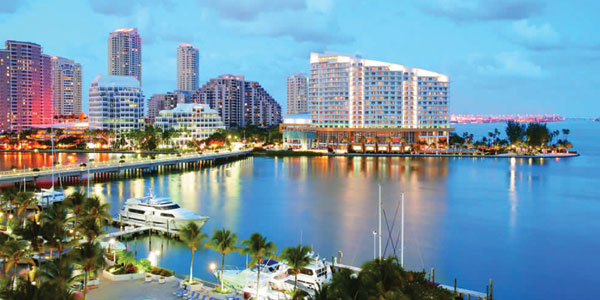 Estamos invadidos. Políticos, sus campañas, periodistas y el circo han aterrizado. Miami será, por unos días, el ombligo de Estados Unidos. Y con razón. Aquí en la Florida podría definirse, de una vez por todas, quiénes serán los nominados de ambos partidos a la presidencia del país.
Desde el 2000, Miami ha cambiado mucho. Esta es una ciudad cada vez más diversa y tolerante. O sea, Miami es el futuro. Los latinos pasamos de ser el 17% de la población en 1960 a más del 70% ahora, según las cifras del último censo. No es extraño ver tiendas con letreros que dicen "English Spoken Here".
Miami — junto con Los Ángeles y Nueva York — está al frente de la revolución demográfica que transforma a Estados Unidos. En el 2055 los blancos (no hispanos) se convertirán en una minoría en este país. Bueno, en Miami hace mucho que lo son. Nos hemos adelantado unas décadas a la historia.
Esto, sin duda, tiene sus ventajas. "Miami es la única ciudad del país donde los hispanos son tratados como ciudadanos de primera clase", me decía mi buen amigo, Joaquín Blaya, visionario ejecutivo de la televisión. Tiene razón. Aquí no tenemos que probarle a nadie lo que valemos, las principales estaciones de radio y televisión son en español, y nuestros votos cuentan.
Ya nos estamos acostumbrando a definir elecciones. George W. Bush me dijo en una vieja entrevista que los 537 votos con los que ganó la Florida (y la Casa Blanca) en el 2000 — más una pequeña ayuda de la Corte Suprema de Justicia — vinieron posiblemente de votantes cubanoamericanos. En este 2016 existe la misma angustia y ansiedad que a principios de siglo; muchos tenemos la convicción de que el futuro de Estados Unidos está en juego. Hoy la pregunta es: ¿Trump o no Trump?
Si Estados Unidos fuera como Miami, el candidato republicano Donald Trump jamás podría ganar una elección, ni siquiera como alcalde o miembro del concejo municipal. Ocho de cada 10 hispanos a nivel nacional tienen una imagen negativa de él, según la última encuesta de Univisión y el Washington Post. Y sin el apoyo de los hispanos, no se pueden ganar elecciones en Miami.
Miami no es una ciudad que apoye muros ni deportaciones masivas. Esta es una ciudad de inclusión — integra, no separa. Aquí venimos de todos lados y lo normal es ser inmigrante. La comunidad cubanoamericana, generosamente, ha ido recibiendo a centroamericanos, colombianos, venezolanos y a cualquiera que huya de la violencia o represión en su país de origen. Alguien, siempre, te ayuda al llegar.
Miami, como todo ser viviente, crece para los lados — la zona metropolitana tiene más de 5 millones de habitantes — y para arriba. "Antes sólo teníamos un montón de edificios", me describió alguna vez el constructor y empresario Jorge Pérez. "Ahora todo tiene un sentido, hay un plan: centros comerciales, oficinas, cultura. Por fin ya no estamos hablando sobre una gran ciudad sino que estamos haciendo una gran ciudad" (incluyendo un museo de arte moderno que lleva su nombre).
Pero, hay una tormenta en el horizonte. El verdiazul mar que nos rodea podría ahogarnos. Las playas a las que solía ir tienen cada vez menos arena. Las inundaciones son frecuentes cerca de los restaurantes de Miami Beach y espero con horror la próxima temporada de huracanes. El hermoso canal que hay cerca de casa podría terminar en mi sala. Si no logramos contener el cambio climático, mis hijos y sus hijos tendrán que lidiar con un Miami … bajo el agua.
Pero, para fortuna de nuestros visitantes, eso no pasará en los próximos días. Aquí hace semanas que llegó la primavera. Van a sudar, bailar salsa y tomar café cubano (que los dejará despiertos por días). Dejen sus abrigos en casa, pónganse sus lentes de sol y abran bien los ojos para ver lo que logra una ciudad que extiende sus brazos a los extranjeros y, luego, los hace parte integral de la comunidad. Nuestra comunidad.
Miami es el lugar donde muchos de nosotros construimos nuestra segunda casa y donde obtuvimos esa segunda oportunidad que tanto necesitábamos. Es, en otras palabras, un lugar donde se lucha y donde uno se puede reinventar. Y eso lo saben también los candidatos. Por eso estamos todos aquí.
Bienvenidos a Miami.
---
Welcome to Miami
MIAMI — We've been invaded. The presidential election-year circus — candidates, campaign staffers, backers, reporters and pundits — has once again rolled into town. The March 15 primary will help solidify who will run in November, so for the next few days, all eyes will be on Florida — Miami in particular.
That focus is fitting because Miami represents the future. The city — along with Los Angeles and New York — is leading a demographic revolution that's transforming the U.S. By 2050, non-Hispanic white Americans will be a minority in this country — though this has been the case for decades in Miami. The Hispanic population went from 17% in the 1960s to more than 70% today, according to census data. (These days, it's not unusual to see the occasional sign in a business declaring that "English is spoken here.")
The demographics shift creates a new dynamic. "Miami is the only city in the country where Hispanics are treated as first-class citizens," my friend Joaquin Blaya, the network executive, once told me. He's right. Hispanics in Miami don't need to demonstrate our community's worth to anyone — the area's most popular radio and television stations broadcast their programs in Spanish, and we know that our votes count.
In fact, Hispanics in Miami are getting accustomed to their political influence. In an interview some years ago, former President George W. Bush told me that the 537 votes with which he won Florida in 2000 — and ultimately the White House — probably came from Cuban-American voters (he also had a little help from the Supreme Court, of course). While the current election cycle is causing at least as much anxiety in 2000, today the big question on voters' minds is not Democrat or Republican, it's Trump or no Trump.
If the U.S. were a bit more like Miami, Donald Trump, the Republican front-runner, would never have a chance of winning an election. Eight out of 10 Hispanics in the U.S. have a negative perception of Trump, according to a recent poll from Univision and The Washington Post. And without the support of the Hispanic community, it's impossible to win an election in Miami. This city isn't about barrier walls or massive deportations; Miami is about inclusion. It doesn't segregate — it integrates. We all came from different places, so being an immigrant is the norm.
Through the years, the established Cuban-American community in Miami has welcomed Central-Americans, Colombians, Venezuelans and anybody fleeing violence or repression in their native countries. In Miami, someone is always willing to help after you arrive.
That attitude has helped the metro area grow to more than 5 million residents and counting. "Everything is coming together," Jorge Perez, the real estate developer after whom Miami's modern art museum is named, told me recently. "We're finally not talking about being a great city — we're being a great city."
But another storm looms on the horizon: climate change. The blue-green sea that surrounds Miami could one day drown the city. The beaches I've visited for years are shrinking into the ocean, and flooding near the famed restaurants and bars of Miami Beach is a frequent occurrence. I'm bracing myself for the coming hurricane season — the canal near my house could very well flood my living room. Indeed, if we don't deal with climate change — a topic seldom discussed by Trump and the other Republican nominees — my children and their children might have to deal with a Miami that is underwater.
Luckily, that's not going to happen in the next week. Spring has arrived, and the guests who are sweeping into Miami for the March 15 primary can spend time in the sun, dance to salsa music and drink some Cuban coffee. My advice to the visitors: Leave your coats at home, grab your sunglasses and open your eyes to what can be accomplished when a community welcomes outsiders with open arms.
Miami is where many of us immigrants got a much-needed second chance. It's a place where you can work hard and truly reinvent yourself. The presidential candidates get it — and that's why they're on their way to ask for our votes.
Welcome to Miami.