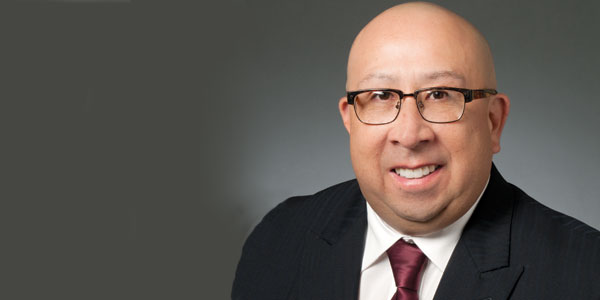 John Fierro está haciendo campaña como candidato escrito para un puesto abierto en la directiva escolar de las Escuelas Públicas de Kansas City. El presidente y director ejecutivo de Mattie Rhodes Center no había planeado ser candidato, pero cuando la fecha límite en enero pasó sin un candidato para representar el subdistrito 3, Fierro decidió hacerlo.
"La ausencia de un candidato calificado fue desilusionante e inquietante. Mi localidad necesita estar representada en la directiva escolar", dijo él.
Fierro fue el primero en anunciar su candidatura escrita para uno de los tres puestos vacantes que no tienen candidato. Desde entonces, Natalie Lewis, Albert Ray, Aija Morris y Catina Taylor agregaron campañas escritas para el subdistrito 1 y subdistrito 5 respectivamente. El alcalde de Kansas City, Sly James dio una declaración el 1º  de marzo endosando a Fierro, Lewis y Morris.
"Tengo confianza en que estas personas basarán decisiones en hechos e información para mejorar los resultados estudiantiles y asegurar una buena gubernatura de la directiva", anunció James.
Originario de Kansas City y residente por largo tiempo del área del Westside, Fierro, así como sus 4 hijos adultos se graduaron en escuelas de Kansas City. Él estuvo empleado por el distrito hace 18 años, dijo él y colaboró en el Comité asesor del superintendente «gabinete de cocina» en las tres últimas administraciones. Su familiaridad operativa con el distrito escolar se extiende hacia la larga sociedad con el distrito con el centro Mattie Rhodes para entregar servicios de consejería y sociales.
«Comprendo la dinámica del distrito escolar. He participado toda mi vida como usuario, empleado y proveedor de servicios», dijo Fierro.
Su compromiso hacia la educación se demuestra por su récord, dijo él. Él es el primero en su familia en tener un título universitario. Mientras que trabajaba tiempo completo y cuidando a una familia, Fierro obtuvo su licenciatura en administración de empresas y su maestría en asuntos públicos y administración de empresas.
Fierro piensa que la directiva escolar puede beneficiarse de su experiencia en administración pública. «He participado en varias directivas responsables por millones de dólares y por contratar a cientos de personas. Tengo un registro de logros para crear consenso, lo cual he demostrado en puntos de vista civiles y comunitarios. Sé cómo  utilizar recursos para lograr las metas, y entiendo la separación de responsabilidades entre el personal y la directiva».
Fierro desea que la directiva se enfoque en ayudar a que el distrito recupere la acreditación completa y trabajar hacia la cooperación y asociación con escuelas chárter para desarrollar un sistema universal de responsabilidades. «Debemos aceptarlas (las escuelas chárter) pero trabajar como un solo sistema», dijo Fierro.
Él ha colaborado en diferentes directivas y comités municipales bajo el alcalde James y sus tres predecesores.
El subdistrito 3 está compuesto de la mayoría de los vecindarios históricos, el Northeast (el norte de Independence Ave), la parte sur de Westside hasta la calle 37, y el vecindario Coleman Highlands (parte O este de Southwest Trafficway). No hay un contrincante para Jennifer Wolfsie, quien se enlistó como candidata para el puesto vacante general en la directiva escolar.
Fierro está programado para dirigirse ante la asociación del vecindario Indian Mound el 21 de marzo a las 6 p.m. y ante los miembros de la NAACP el 22 de marzo a las 6p.m.
La elección es el 5 de abril.
_________________________________________________________________________________________________________
John Fierro's write-in run for school board
By Edie R. Lambert
John Fierro is campaigning as a write-in candidate for an open seat on the board of the Kansas City Public Schools. The Mattie Rhodes Center's president and chief executive hadn't planned to run, but when the January filing deadline passed without a candidate to represent Subdistrict 3, Fierro decided to run.
"The absence of a qualified candidate was disappointing and disturbing," he said. "My home location needs to be represented on the school board."
Fierro was the first to announce his write-in candidacy for one of three open seats without a candidate. Natalie Lewis and Albert Ray and Aija Morris and Catina Taylor have since mounted write-in campaigns for Subdistrict 1 and Subdistrict 5, respectively. Kansas City Mayor Sly James issued a statement on March 1 endorsing Fierro, Lewis and Morris.
"I trust these individuals to base decisions on facts and data that improve student outcomes and ensure good board governance," James announced.
A Kansas City native and longtime Westside resident, Fierro, as well as his four adult children graduated from Kansas City schools. He was employed by the district 18 years ago, he said, and has served on the superintendent's "kitchen cabinet" advisory committee in the last three administrations. His operational familiarity with the school district extends to the Mattie Rhodes Center's long-time partnership with the district to deliver counseling and social services.
"I understand the dynamics of the school district," Fierro said. "I've been involved all my life as a consumer, employee and service provider."
His commitment to education, he said, is demonstrated by his record. He's the first in his family to become a degreed college graduate. While working full-time and raising a family, he earned a bachelor's degree in business administration and master's degrees in public affairs and business administration.
Fierro believes the school board can benefit from his experience in public administration.
"I've been on several boards responsible for millions of dollars and responsible for hiring hundreds of people," he said. "I have a track record for consensus-building, which I've demonstrated in both civic and community standpoints. I know how to leverage resources to get things done, and I understand the separation of responsibilities between staff and board."
Fierro wants the board to focus on helping the district regain full accreditation and work toward cooperating and partnering with charter schools to develop a universal accountability system.
"We should embrace them (charter schools) but work as one system," Fierro said.
He has served on several city boards and committees under Mayor James and his three predecessors.
Subdistrict 3 takes in most of historic Northeast (north of Independence Ave.), the Westside south to 37th St. and the Coleman Highlands neighborhood (west of Southwest Trafficway).
There's no challenger to Jennifer Wolfsie, who filed as a candidate for the open at-large seat on the school board.
Fierro is scheduled to address the Indian Mound Neighborhood Association at 6 p.m. on March 21 and members of the NAACP at 6 p.m. on March 22.
The election is April 5.