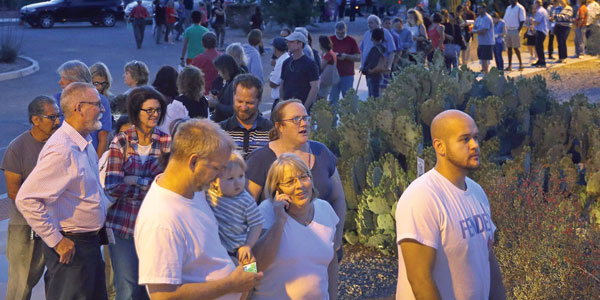 El juicio pone en evidencia la desigualdad en el proceso
Los Estados Unidos se enorgullece en ser un país democrático en el que todos sus ciudadanos tienen un qué decir. Pero el proceso de sufragio demuestra lo contrario.
Una vez más, una elección en el país es cuestionada. Larga filas y falta de votos fue solamente el principio de los problemas en las elecciones presidenciales primarias en el estado de Arizona el 22 de marzo. Residentes que normalmente se registran como independientes y cambiaron a Demócratas para las primarias fueron excluidos de la elección por supuestamente no haber completado el proceso de registración. En algunas comunidades, el número de mesas fueron reducidas por un 70 por ciento o más, comparadas al año 2014.
Las elecciones están siendo cuestionadas. Las personas de Arizona se sienten violadas. Y el partido demócrata, junto a las campañas de Hillary Clinton y Bernie Sanders, elevaron un juicio en contra al estado de Arizona.
El juicio acusa que el inadecuado número de mesas hábiles resultó en un gran problema para los votantes lo cual no permitió un resultado realista ya que muchas personas no pudieron o quisieron espera horas tras horas para poder votar o para simplemente ser denegada el sufragio.
El juicio indica que la situación fue aún peor en áreas mayormente pobladas por personas de la raza negra, hispanos, y nativos. Esas áreas contaban con menos mesas de sufragios que las áreas mayormente poblados por la raza blanca.
El propósito del juicio es obligar a los oficiales de Arizona a reconsiderar el sistema e implementar un mejor sistema de sufragio a tiempo para las elecciones presidenciales de noviembre. Los estados deben proveen un lógico número de mesas para que los ciudadanos puedan practicar sus derechos.
A pocos meses de las elecciones presidenciales, espero sinceramente, que los estados aprendan de los errores cometidos por Arizona para asegurar que todos los ciudadanos tengan un qué decir en el futuro de esta gran nación.
________________________________________________________________________________________________________
Democratic Party suing Arizona
Commentary by Dermidio Juez-Perez
Lawsuit shows inequalities remain in election process
The United States prides itself on being a democratic nation where all voters get a say. Yet the election process often suggests otherwise, as the latest controversy in Arizona shows.
Once again, an American election is being questioned. Long lines and not enough ballots were just part of the issue in Arizona's presidential primary election, held on March 22. Voters who were normally registered as independent, but had become registered Democrats for the presidential primaries were told they hadn't registered at all. In some communities, officials reduced the number of polling places by 70 percent or more, compared to 2014.
The election is being questioned. Arizonans feel violated. And the Democratic Party, in conjunction with the presidential campaigns of Hillary Clinton and Bernie Sanders, are suing the state of Arizona.
The lawsuit states, Arizona's "alarmingly inadequate number of voting centers resulted in severe, inexcusable burdens on voters county-wide, as well as the ultimate disenfranchisement of untold numbers of voters who were unable or unwilling to wait in intolerably long lines."
In addition, the lawsuit claims the situation was particularly burdensome in areas where African American, Hispanic and Native American communities reside. Such areas had fewer polling centers than areas where whites live – and in some cases, they had no polling centers at all.
The main purpose of this lawsuit is to force officials in Arizona to reconsider the situation and devise a better voting system for the presidential election in November. States must provide a reasonable number of readily accessible polling locations for citizens to practice their right to vote.
With Election Day only months away, I sincerely hope that every state learns from Arizona's mistake and improves its election process to assure that every citizen gets a say in the future of this great nation.