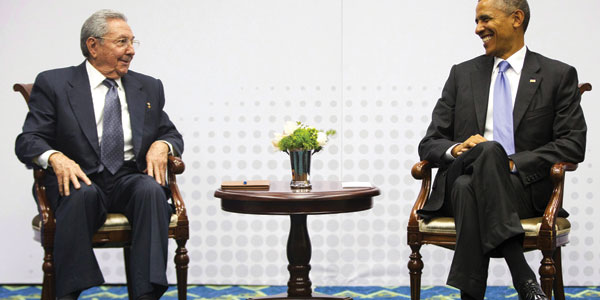 La infraestructura del país considerado no viable para la oleada de visitantes
Una oleada de interés en visitar Cuba tuvo lugar poco después de la aflojamiento de algunas restricciones de viaje y financieras del presidente Obama de permitir a los ciudadanos norteamericanos viajar de forma independiente, en lugar de utilizar un viaje en grupo con licencia.
De acuerdo con un informe de la Prensa Asociada, viajes desde EE.UU. a Cuba casi se duplicó en 2015 a más de 160,000 visitantes. Se espera que aumente entre un 10 y un 20 por ciento, lo que ayudará a llenar los asientos de un máximo de 110 vuelos comerciales al día, comenzando a finales de este año.
El aumento previsto de visitantes a Cuba podría ser un reto para dar cabida a la limitada infraestructura de la isla, que se ha mantenido sin cambios desde el embargo comercial de EE.UU. entró en vigor en la década de 1960. La isla cuenta con aproximadamente 61,000 habitaciones de hotel para ofrecer, con varios proyectos hoteleros que se completará en cuestión de años.
Antes de la reciente visita de Obama a La Habana, los cambios entraron en vigor a mediados de marzo con la esperanza de mejorar las relaciones EE.UU.-Cuba e incentivar a Cuba para aliviar sus propias políticas y hacer mejoras en su infraestructura decadente, mejorar su economía y el acceso a Internet.
Aunque el turismo aún está prohibido, las personas pueden viajar sin depender de un viaje en grupo con licencia, siempre y cuando el viaje es para los propósitos educativos y que mantengan un registro de sus actividades durante su visita.
________________________________________________________________________________________________________
Interest in U.S.-to-Cuba travel on upswing
By Melissa Arroyo
Country's infrastructure considered not viable for influx of visitors
A surge of interest in visiting Cuba took place shortly after President Obama's loosening of some travel and financial restrictions to allow American citizens to travel independently, instead of using a licensed group tour.
According to a report by the Associated Press, U.S. leisure travel to Cuba nearly doubled in 2015 to more than 160,000 visitors. It's expected to increase between 10 and 20 percent, helping to fill seats on as many as 110 commercial flights a day, starting later this year.
The expected increase in visitors to Cuba might be challenging to accommodate with the island nation's limited infrastructure, which has remained unchanged since the U.S. trade embargo went into effect in the 1960s. The island has approximately 61,000 hotel rooms to offer, with several hotel projects to be completed in a matter of years.
Prior to Obama's recent visit to Havana, the changes went into effect in mid-March in hopes of improving U.S.-Cuba relations and incentivizing Cuba to ease its own policies and make improvements to its decaying infrastructure, boost its economy and Internet access.
Although tourism remains prohibited, individuals may travel without relying on a licensed group tour, provided the travel is for educational purposes and they keep track of their activities during their visit.