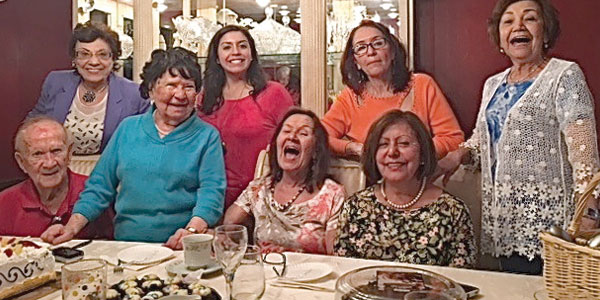 El 16 de abril, Tony y Marta Dehghani ofrecieron una cena para celebrar el cumpleaños número 95 de la Sra. Josefina Prewitt. Entre los asistentes estuvieron Lee Prewitt, su esposo; sus hermanas Nelly Aguilera (esposa de Guilberto) y Alba Niño, y sus sobrinos Estela Martín y Orlando Ramírez, amigos Manuel y Clara Reyes, Marcella y Mark Ganer.
---
Prewitt celebrates 95Th birthday
On April 16, Tony and Martha Dehghani hosted a dinner to celebrate Josefina Prewitt's 95th birthday. Those who attended included Lee Prewitt, her husband; her sisters, Neely Aguilera (wife of Guilberto) and Alba Nino (Niño in Spanish); and her niece and nephew, Estela Martin and Orlando Ramirez, respectively,  Manuel and Clara Reyes,  Marcella and Mark Garner.