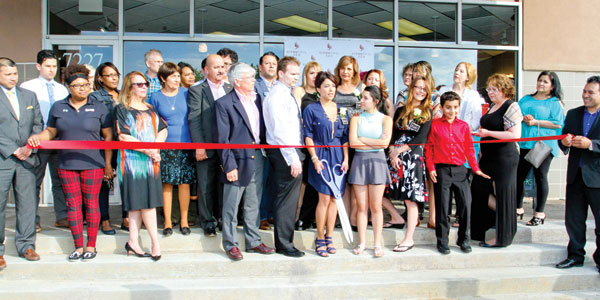 Más de 100 personas se reunieron el lunes 25 de abril en la estética BeYOUtiful Hair Salón para la ceremonia de corte de listón de la Cámara Hispana de Comercio de Kansas City para celebrar la gran inauguración del salón de belleza.
Ubicado en 7227 W. 95th St. in Overland Park, Kan., el salón es propiedad y operado por Erika Ruiz y su esposo Brian Glenn. Ruiz, una sobreviviente bilingüe de cáncer que está cumpliendo su sueño de toda la vida de abrir y operar el salón,  destaca en cortes de forma libre  y navaja. Ella también domina cortes de pelo estilo barbero para hombres, cortes desvanecidos y diseños.
---
HCC holds ribbon-cutting ceremony for BeYOUtiful
More than 100 people gathered on Monday (April 25) at BeYOUtiful Hair Salon for the Hispanic Chamber of Commerce of Greater Kansas City's ribbon-cutting ceremony to celebrate the salon's grand opening.
Located at 7227 W. 95th St. in Overland Park, Kan., the salon is owned and operated by Erika Ruiz and her husband, Brian Glenn. Ruiz, a bilingual cancer survivor who's fulfilling a lifelong dream by opening and operating the salon, excels in free form and razor haircuts. She also is proficient in men's barber-style haircuts, fades and designs.