Alphabroder, an apparel distribution company, is looking for people like you!
Seeking dependable team players to fill our part time and full time positions.  Hours and pay vary depending on skill level of position.  Opportunity for promotion is an option for you!  Come join our alphabroder team…the sky is the limit!  Please apply at www.alphabroder.com, Careers, join our Talent Network.  See you soon!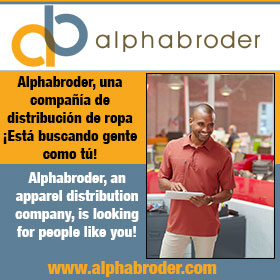 Alphabroder, una compañía de distribución de ropa ¡Está buscando gente como tú!
Buscamos personas responsables para ocupar puestos de tiempo completo y medio tiempo. El horario y salario varían dependiendo del nivel de habilidad en cada puesto. ¡Oportunidades de ascenso! Únete a nuestro equipo ¡El cielo es el límite! Llena tu solicitud en www.alphabroder.com, Careers, Join our Talent Network