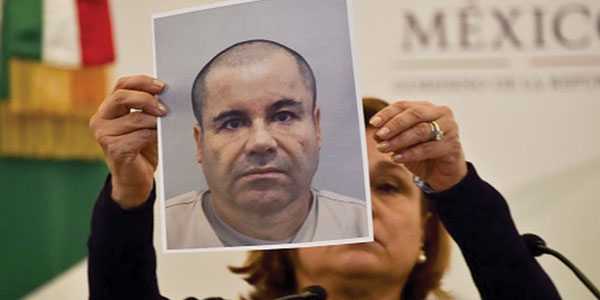 El 20 de mayo, el ministro mexicano de Relaciones Exteriores anunció que el narcotraficante Joaquín Guzmán Loera "alias "El Chapo" -podría ser extraditado de México hacia los Estados Unidos.
El gobierno mexicano también anunció que "El Chapo" podría enfrentar múltiples acusaciones en Estados Unidos, incluyendo conspiración, crimen organizado, asesinato, tráfico de cocaína y lavado de dinero. Además, el gobierno mexicano anunció que "El Chapo" no sería sujeto a la pena de muerte.
"El gobierno de Estados Unidos proporcionó suficientes garantías de que el señor Guzmán Loera no sería sujeto a la pena de muerte si es extraditado y enjuiciado en ese país", dijo el ministro exterior mexicano en una declaración.
De acuerdo con las autoridades mexicanas, "El Chapo" será extraditado una vez que se complete toda la papelería y los acuerdos. Aunque el ministro de Relaciones Exteriores no ha publicado una fecha en que tomaría lugar la extradición, se calcula que el proceso puede llevar varios meses. De acuerdo con el servicio de noticias Reuters, uno de los abogados de "El Chapo" ha confirmado que el equipo legal del narcotraficante disputará la decisión en los próximos 30 días.
Guzmán Loera, quien fuera recapturado en enero después de su segundo escape de la prisión varios meses previos, había estado encarcelado en " El Altiplano" en el Estado de México. Sin embargo, hace unos días el gobierno mexicano publicó una declaración diciendo que el capo había sido trasladado a una prisión en Ciudad Juárez.
_______________________________________________________________________________________________________________________
United States granted extradition request to try "El Chapo"
By Chara
On May 20, the Mexican Ministry of Foreign Relations announced that drug lord Joaquin Guzman Loera – a.k.a., "El Chapo" – could be extradited from Mexico to the United States.
The Mexican government also announced that "El Chapo" would face multiple charges in the United States, including conspiracy, organized crime, murder, cocaine trafficking and money laundering. Moreover, the Mexican government announced that "El Chapo" wouldn't be subject to the death penalty.
"The U.S. government provided sufficient guarantees that Mr. Guzman Loera would not be subject to the death penalty if extradited and tried in that country," the Mexican Foreign Ministry said in a statement.
According to Mexican authorities, "El Chapo" will be extradited once all the paperwork and agreements are completed. Although the Ministry of Foreign Relations hasn't released a date of when the extradition will take place, it's estimated that the process will take several months. According to the news service Reuters, one of "El Chapo's" lawyers has confirmed that the drug lord's legal team will challenge the decision within the next 30 days.
Recaptured in January after his second escape from prison several months earlier, Guzman Loera had been incarcerated in "El Altiplano" in the state of Mexico. A few days ago, however, the Mexican government issued a statement saying the drug lord had been moved to a jail in Ciudad Juarez.