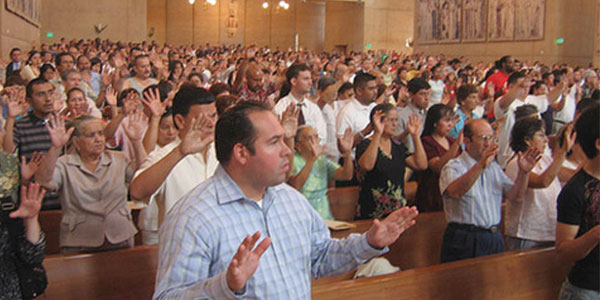 Iglesias y organizaciones religiosas tienen la opción para presentar una visa de trabajo en nombre de sus trabajadores religiosos: la visa R-1.
La visa R-1 sirve como una alternativa a la visa H1-B, que usualmente favorece a empleados en campos de alta demanda como la tecnología. Sin embargo, como la Agencia Estadounidense de Ciudadanía y Servicios de Inmigración (USCIS) ha detectado un elevado número de solicitudes fraudulentas, las directrices de aplicación cambiaron en el 2008.
Anteriormente una visa R-1 podría ser adquirida en un consulado estadounidense en el extranjero con sólo una carta de un patrocinador y documentos como evidencia. Ahora, la organización religiosa o la iglesia debe patrocinar al empleado primero y presentar una petición con el USCIS, cual es sometido a un alto nivel de escrutinio.
Roger McCrummen, abogado de inmigración McCrummen Immigration Law Group en North Kansas City, Mo., comentó  que el proceso de una visa R-1 puede ser complicado.
Dado a que las aplicaciones R-1 están siendo tratados como aplicaciones con un alto potencial de fraude, la aplicación puede tomar un año o más para procesar. Cada aplicación  requiere una visita a las oficinas de la organización religiosa por un oficial de fraude.
McCrummen recomienda a los solicitantes aplicar antes de tiempo e inmediatamente aplicar para una tarjeta verde a base de trabajador religioso después de recibir la visa R-1, si es elegible, para evitar complicaciones. El tiempo de espera para solicitantes recibir una tarjeta puede ser largo, especialmente si la aplicación es de México, Honduras, El Salvador o Guatemala debido al número limitado de visas de inmigrante disponibles en esta categoría.
McCrummen mencionó que esta visa es para los Ministros y aquellos con vocaciones religiosas u ocupaciones religiosas (monjes y monjas). No está diseñado para personas que trabajan para organizaciones religiosas sin realizar una función religiosa tradicional (como la enseñanza de la religión). En otras palabras, no se aplicaría a los trabajadores que primordialmente realizan tareas administrativas.
De acuerdo con el USCIS, sólo se otorgan 5,000 visas de residencia permanente a los trabajadores religiosos que no son ministros, cada año fiscal. Las aplicaciones en las instalaciones representación de los trabajadores no ministros y sus cónyuges acompañantes y / o niños serán aceptadas hasta el mes de septiembre. Ministros, sin embargo, no se ven afectados por este tiempo y no se enfrentan a un límite de  tiempo.
Para más detalles e información acerca de los requisitos de la aplicación, llame a McCrummen al (816) 221-5444 o visite www.uscis.gov.
_________________________________________________________________________________________________________________
R1 visa an option for religious workers and ministers
By Melissa Arroyo
Churches and other religious organizations have an option for filing for an employment visa on behalf of their religious workers: the R-1 visa.
The R-1 visa serves as an alternative to the H1-B, the employer-sponsored visa that usually favors employees in high-demand fields such as technology. However, because the U.S. Citizenship and Immigration Services (USCIS) agency has encountered a high number of fraudulent applications, the application guidelines changed in 2008. Previously an R-1 visa could be obtained at a US consulate abroad with just a letter from a sponsoring organization and supporting documents.  Now, the church or religious organization sponsoring the worker must first file a petition with the USCIS, which is subjected to a high level of scrutiny.  
According to Roger McCrummen, immigration attorney at the McCrummen Immigration Law Group in North Kansas City, Mo., filing for an R-1 visa can be complicated, and has many pitfalls.
Because R-1 applications are being treated as applications with high potential for fraud, the application can take a year or more to process. Each filing requires a site visit to the religious organization's offices by a fraud officer. McCrummen recommends applicants to file ahead of time and immediately file for a religious worker-based green card after receiving the R-1 visa, if eligible, to avoid complications. The wait time for R-1 status applicants to receive a green card can also be lengthy, especially if the applicant is from Mexico, Honduras, El Salvador, or Guatemala because of the limited number of immigrant visas in this category available.  
McCrummen also mentioned that this visa is for ministers, or those with religious occupations or religious vocations (such as monks and nuns).  It isn't designed for persons working for religious organizations but not engaged as ministers or in a traditional religious function (like teaching religion).   In other words, it wouldn't apply to workers doing primarily administrative tasks.
According to the USCIS, only 5,000 permanent residence visas will be granted to non-minister religious workers each fiscal year. Applications on behalf of non-minister workers and their accompanying spouses and/or children will be accepted through September. Ministers, however, aren't affected by this date and don't face a cap limit.
For more details and information about the application requirements, call McCrummen at (816) 221-5444 or visit www.uscis.gov.