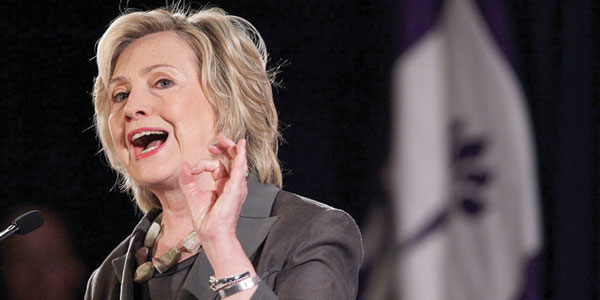 La candidata presidencial demócrata, Hillary Clinton, ha dado a conocer sus declaraciones de impuestos – y el 18 de agosto, publicó un anuncio empujando a su oponente republicano, Donald Trump, a hacer lo mismo.
De acuerdo con la campaña de Clinton, todos los candidatos presidenciales han hecho sus declaraciones públicas desde 1976. Clinton publicó el total de 33 años de devoluciones de impuestos. Su compañero, Tim Kaine, publicó el total de 10 años.
La difusión de Hillary y documentos fiscales del ex presidente Bill Clinton han revelado $ 10 millones de ingresos en 2015, por debajo de $ 28 millones en 2014. Sus ingresos se han atribuido principalmente a la venta de libros y discursos, con los discursos que costaron alrededor de $ 225,000 por compromiso.
Además, los documentos fiscales incluyen los impuestos pagados y las contribuciones de caridad. Los documentos muestran que la familia Clinton dedicó aproximadamente el 10 por ciento de sus ingresos.
Cuando se le preguntó acerca de sus declaraciones de impuestos, Trump normalmente dice que, debido a que es objeto de la auditoría, no se le permite publicar nada todavía. Sin embargo, su renuencia a publicar sus declaraciones de impuestos no está claro para muchos.
Algunas especulaciones han surgido acerca de la renuencia de Trump para publicar sus ganancias. Una de ellas es que sus tasas de impuestos podrían ser más bajos que para los estadounidenses de clase media. Otra es que él podría estar abusando de las lagunas fiscales. Otra más es que podría no ser tan prospero como él afirma.
Si Trump decide no publicar sus declaraciones de impuestos, sería el primer candidato presidencial en 40 años en no hacerlo.
_________________________________________________________________________________________________________________
Hillary Clinton releases tax returns, pushes Trump to do the same
By Melissa Arroyo
Democratic presidential candidate Hillary Clinton has released her tax returns – and on Aug. 18, she published an advertisement pushing her Republican opponent, Donald Trump, to follow suit.
According to the Clinton campaign, every presidential candidate has made their returns public since 1976. Clinton released 33 years' worth of returns. Her running mate, Tim Kaine, released 10 years' worth of returns.
The disclosure of Hillary's and former President Bill Clinton's tax documents have revealed $10 million of income in 2015, down from $28 million in 2014. Their income has been mostly attributed to book sales and speeches, with the speeches fetching approximately $225,000 per engagement.
Additionally, the tax documents include their taxes paid and charitable contributions. The documents show the Clintons dedicating about 10 percent of their income.
When asked about his tax returns, Trump normally makes the case that, because he's under audit, he's not allowed to release anything yet. However, his reluctance to release his tax returns is unclear to many.
Some speculations have surfaced about Trump's reluctance to release his returns. One is that his tax rates might be lower than for middle-class Americans. Another is that he might be abusing tax loopholes. Yet another is that he might not be as rich as he claims.
Should Trump refuse to publish his tax returns, he'd be the first presidential candidate in 40 years to release no returns.