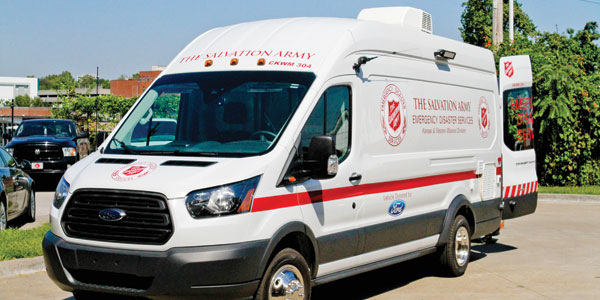 Si surgiera una emergencia en el área de Kansas City, quizás le llamen al Ejército de Salvación de la división de Kansas y el oeste de Missouri  para que proporcione ayuda.
Si ése fuera el caso, la organización no lucrativa tiene un camión de carga Ford Transit 350 adaptado para responder.
El 22 de septiembre, Ford Motor Co, donó el nuevo camión para el Ejército de Salvación durante una ceremonia en la estación 19 del Departamento de Bomberos de Kansas City (KCFD, por sus siglas en inglés). De acuerdo con Tony Reinhart, director de administración y relaciones comunitarias de Ford, entre los que asistieron estuvieron el subcomandante de KCFD, James Garret y el sargento del Ejército de Salvación, David Harvey quienes aceptaron el vehículo a nombre de la división de Kansas y el oeste de Missouri.
"Tenemos una fuerte relación con ellos porque muchas de sus prioridades están alineadas con las nuestras", dijo Reinhart el lunes por la mañana (26 de septiembre) vía telefónica. "Simplemente pareció un complemento natural (donar el camión) debido a que nosotros (en Ford) también vemos la respuesta de emergencia como algo que es importante para la comunidad, y por eso, extendimos… la relación laboral con ellos haciendo esto".
Construido en la planta de ensamblado Ford Kansas City, en Claycomo, Mo, el nuevo camión del Ejército de Salvación mide 6.70 metros de largo y 2.10 metros de altura, de acuerdo con un correo electrónico de Hanna Gourley, vocero de Ford, quien preparó la entrevista con Reinhart. Reinhart dijo que sus componentes incluyen "una cocina completa" y áreas para almacenamiento de ropa y cobijas. Además, el vehículo está diseñado para maniobrar "hacia lugares más estrechos", declaró él.
"Es perfecto para una de esas… (emergencias) que quizás no sea un problema de varios días, pero… sea un problema de 5 o 6 horas, ¿sabes a lo que me refiero? Algo como eso… y así, eso va a darles un poco de flexibilidad que no tenían antes", dijo Reinhart.
---
Ford contributes Transit to SA's emergency response work
Story by Shawn Roney and photos by Michael Alvarado
Should there be an emergency in the Kansas City area, the Salvation Army Kansas & Western Missouri Division might be called upon to help.
If that's the case, the non-profit organization has a customized Ford Transit 350 Cargo van it can use to respond.
On Sept. 22, the Ford Motor Co. donated the new van to the Salvation Army during a ceremony at Kansas City Fire Department (KCFD) Station 19. According to Tony Reinhart, Ford director of government and community relations, those who attended included KCFD Deputy Chief James Garrett and Salvation Army Major David Harvey, who accepted the vehicle on the Kansas & Western Missouri Division's behalf.
"We have a strong relationship with them because a lot of their priorities are aligned with our priorities," Reinhart said Monday morning (Sept. 26) by phone. "It just seemed like a natural fit (to donate the van) because (of) the fact that we (at Ford) also see emergency response as something that's important to the community. And so, we just kind of extended … the working relationship with them by doing this."
Built at the Ford Kansas City Assembly Plant in Claycomo, Mo., the Salvation Army's new van is 21.99 feet long and 6 feet, 9 inches high, according to an e-mail from Hannah Gourley, Ford spokesperson, who arranged the Reinhart interview. Reinhart said its components include "a full kitchen," and areas for clothing and blanket storage. In addition, the vehicle is designed to maneuver "into tighter locations," he stated.
"It's perfect for one of those … (emergencies) where it's maybe not a multiday problem, but … it's a five-, six-hour problem, you know what I'm saying? Something like that…. And so, that's going to give them some flexibility they haven't had prior (to this) as well," Reinhart said.