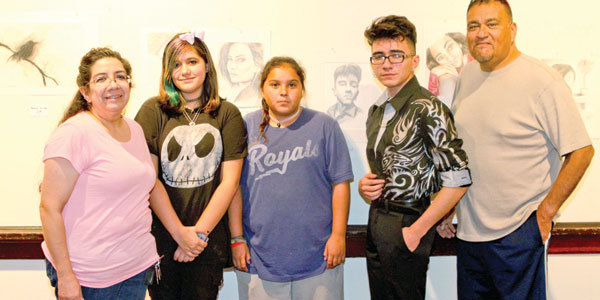 El 8 de octubre, las obras de arte de los estudiantes de la preparatoria Bishop Ward, fueron exhibidas en el Centro de Artes Alcott en Kansas City, Kansas.
Dibujos, pinturas, grabados, cerámicas, esculturas, imágenes digitales, poesía, escritura creativa, presentaciones musicales y un altar de Día de Muertos estuvieron en exhibición, de acuerdo con el profesor de arte Nick Tomasic que ha dado clases durante 11 años en Bishop Ward.
"Nuestros estudiantes estaban muy orgullosos – y con razón," indicó Tomasic.
Tomasic añadió que los dibujos de Abraham Ayalla estudiante de Bishop Ward, llamaron la atención de Chris Green, director ejecutivo de Alcott, que le ofreció a Ayalla una exposición individual para el 2017.
"No hay suficientes cosas buenas para decir sobre Abraham y nuestros estudiantes," expresó Tomasic.
---
Bishop Ward students showcase their art   
By Nicholas Peterson
On Oct. 8, the creative expressions of Bishop Ward High School students were on display at the Alcott Arts Center in Kansas City, Kan.
Drawings, paintings, prints, ceramics, sculptures, digital imagery, poetry, creative writing, musical performances and a Dia de los Muertos (Day of the Dead) altar were on display, according to Nick Tomasic, a Bishop Ward art teacher for 11 years.
"Our students were very proud – and rightfully so," Tomasic said.  
Tomasic added that Bishop Ward junior Abraham Ayalla's drawings caught the attention of Chris Green, Alcott's executive director, who offered Ayalla a 2017 solo show.  
"I can't say enough good things about Abraham and all our students," Tomasic reflected.