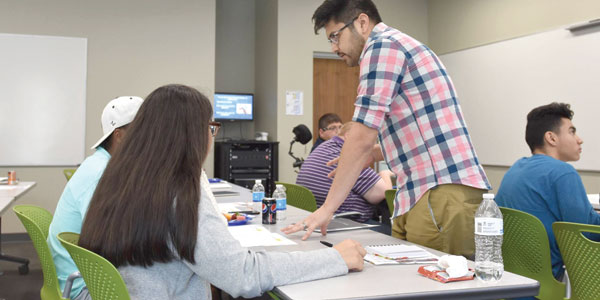 El 15 de octubre, Latinos of Tomorrow (LOTs) (Latinos del Mañana) se unieron con Young Latino Professionals (Jóvenes Profesionales Latinos) y Prospanica Kansas City para ofrecer el evento: Convirtiéndose en un Profesional en la Sociedad de Hoy, en la Universidad Rockhurst en Kansas City, Missouri.
El evento incluyó presentaciones y actividades enfocadas para afinar las habilidades de comunicación de los estudiantes de preparatoria y universidad, y motivar su participación comunitaria. De acuerdo con Clara Hernández, presidenta de LOT, aproximadamente 25 estudiantes asistieron al evento de cuatro horas, el cual incluyó presentaciones, actividades de grupo y un panel de cuatro personas de profesionales.
"Ellos (los estudiantes) dijeron que realmente les gustó. Lo disfrutaron, hicieron contactos. No solamente eso, hicieron amigos", dijo Hernández.
Un panelista local fue Diana Sofia Acevedo, estudiante de doctorado en ciencias biomédicas en el Centro Médico KU, quien le recordó a los otros estudiantes: "antes de ser profesional, eres una persona… sé alguien que eleve a la siguiente generación".
Otros de los estudiantes asistentes incluyeron al estudiante Jehieli Arteta, de Johnson County (Kan.) Community College, quien encontró útil el evento.
"Fue muy inspirador escuchar cada una de las historias en la junta de LOT – especialmente porque pude finalmente relacionarme con alguien que ha tenido una formación similar a la mía y que enfrentaron obstáculos similares a los que ahora enfrento… nosotros como la generación futura tiene que romper los límites y superarnos … debemos deshacernos de los estereotipos negativos y ser la generación donde la comunidad vea a más doctores, ingenieros y abogados latinos", comentó Arteta.
Para mayor información sobre los Latinos of Tomorrow, visite latinosoftomorrow.com o siga a la organización por Facebook en facebook.com/lotskc y por Twitter @lotskc.
______________________________________________________________________________________________________________
Latinos of Tomorrow hosts professional development event
By Nicholas Peterson
On Oct. 15, the Latinos of Tomorrow (LOTs) joined hands with Young Latino Professionals and Prospanica Kansas City to host the event Becoming a Professional in Today's Society at Rockhurst University in Kansas City, Mo.
The event included presentations and activities aimed to sharpen high school and college students' communication skills, and encourage their community involvement.  According to Clara Hernandez, LOTs president, approximately 25 students attended the four-hour event, which included presentations, group activities and a four-person panel of professionals.
"They (the students) said that they really liked it," Hernandez said. "They enjoyed it, they made connections. Not only that, they made friends."
One local panelist was Diana Sofia Acevedo, a doctoral student in biomedical sciences at the KU Medical Center, who reminded the other students: "Before you're a professional, you are a person… Be somebody that lifts the next generation."
Other students in attendance included Johnson County (Kan.) Community College sophomore Jehieli Arteta, who found the day helpful.
"It was very inspiring to hear each and everyone's story at the LOT's meeting – especially because I could actually finally relate to someone that has had a similar upbringing as I did and that faced similar obstacles that I now face…. We as the future generation have to break the boundaries and step up our game…. We must get rid of the negative stereotypes and be the generation where the community sees more Latino doctors, engineers and lawyers," Arteta commented.
For more information about the Latinos of Tomorrow, visit latinosoftomorrow.com or follow the organization on Facebook at facebook.com/lotskc and on Twitter @lotskc.