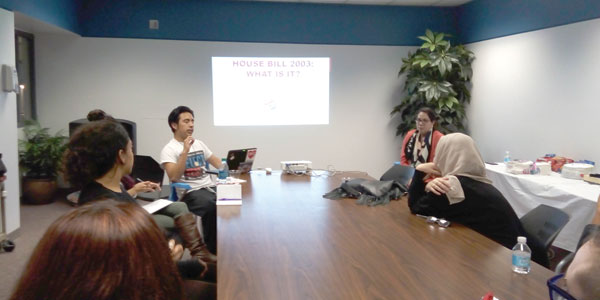 El 3 de noviembre, estudiantes del área de Kansas City y activistas de derechos de inmigración se reunieron en el Metropolitan Community College-Penn Valley para discutir el estado actual de las subidas de matrícula contra los estudiantes indocumentados y los estudiantes con estatus de DACA.
Presentado por la Asociación para el Adelanto de los Estudiantes Inmigrantes (PAIS), la reunión incluyó información sobre una reciente reformulación del Proyecto de Ley 3 de Missouri, un proyecto de ley de presupuesto que describe el financiamiento estatal para las universidades públicas y prohíbe que las universidades ofrezcan colegiatura estatal a estudiantes indocumentados . Como resultado, varios estudiantes se sorprendieron con una factura más alta – hasta el triple de la cantidad que habían esperado pagar por semestre.
En la Universidad de Missouri-Kansas City, por ejemplo, los residentes de Missouri con "estatus legal" pueden esperar pagar de $ 3,000 a $ 4,000 en matrícula, mientras que los estudiantes con "estatus ilegal" se ven obligados a pagar casi $ 9,000 por semestre. Con el precio de los libros de texto y los honorarios aumentando, los gastos generales pueden agregar hasta $ 15.000 por semestre.
Pero hay un pequeño detalle sobre el proyecto de ley que podría hacer una diferencia para estos estudiantes: El texto no es una ley; por lo tanto, no es aplicable.
El gobernador Jay Nixon firmó (el proyecto de ley) porque dijo que el mensaje no es aplicable ", dijo Yara Puente, defensora de los derechos de los inmigrantes locales. "Sin embargo, las escuelas lo tomaron de manera diferente …. Dicen que es una ley porque está en el presupuesto".
Aunque el mensaje no es aplicable, las universidades siguen cobrando tarifas fuera del estado para no arriesgar su financiamiento gubernamental.
PAIS está tratando de crear conciencia sobre el tema en el área, y tiene metas para presionar a las instituciones que imponen este aumento de matrícula. También se está organizando a principios del 2017 para solicitar al gobierno que retire la orden del proyecto de ley, que se renovará en mayo del 2017. Para obtener más información, comuníquese con Juan Alarcon, organizador de PAIS, al (816) 433-1244.
__________________________________________________________________________________________________________________
Students, activists discuss tuition hikes against undocumented, DACA students
By Melissa Arroyo
On Nov. 3, Kansas City area students and immigration rights activists met at Metropolitan Community College-Penn Valley to discuss the current state of tuition hikes against undocumented students and Deferred Action for Childhood Arrival students.
Presented by the Partnership for the Advancement of Immigrant Students (PAIS), the meeting included information about a recent rewording of Missouri House Bill 3, a budget bill that outlines state funding for public universities and prohibits universities from offering in-state tuition to undocumented students. As a result, several students were surprised with a higher tuition bill – up to triple the amount they had expected to pay per semester.
At the University of Missouri-Kansas City, for example, Missouri residents with "lawful status" can expect to pay anywhere from $3,000 to $4,000 in tuition, while students with "unlawful status" are forced to pay nearly $9,000 in tuition per semester. With the surging price of textbooks and fees, the overall expenses can add up to $15,000 per semester.
But there's a small detail about the bill that could make a difference for such students: The wording of the bill isn't a law; therefore, it's not enforceable.
"Gov. Jay Nixon signed (the bill) because he said that the language is not enforceable," said Yara Puente, a local immigrant's rights advocate. "However, the schools took it differently…. They say it's a law because it's in the budget of the bill."
Although the language isn't enforceable, universities are still charging out-of-state rates to avoid risking their government funding.
PAIS is trying to raise awareness of the issue in the area, and has goals to put pressure on the institutions enforcing this tuition hike. It's also organizing in early 2017 to petition the government to take out the order from the bill, which will be up for renewal in May 2017. To learn more, contact Juan Alarcon, PAIS organizer, at (816) 433-1244.