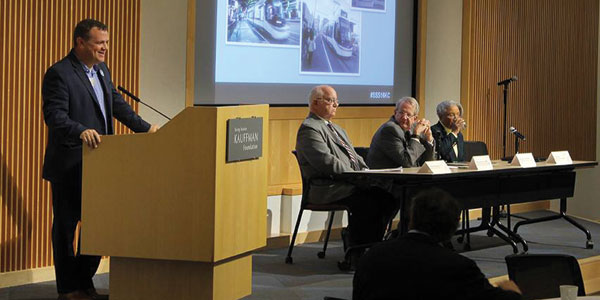 El Consejo Regional de América Central (MARC), funcionarios del gobierno local y miembros de la comunidad se reunieron el 8 de diciembre en el Centro de Conferencias de la Fundación Kauffman en Kansas City, Missouri, para el noveno evento anual de Historias de Éxito de Sostenibilidad ambiental de MARC.
Cada año, este evento se celebra para reconocer varios esfuerzos de sostenibilidad ambiental en la comunidad.
"Ha sido increíble", dijo Tom Jacobs, director de programa ambiental de MARC. "Cada año, hemos tenido la oportunidad de reconocer y celebrar diferentes proyectos que ejemplifican diferentes aspectos de sostenibilidad".
El programa permite que varios esfuerzos de sostenibilidad del área sean mostrados a la comunidad. Según Jacobs, el programa de este año se enfocó en proyectos específicos de transporte, específicamente proyectos que se están esforzando por convertirse en "calles completas".
"En los últimos 15 años, ha habido una evolución en la planificación de obras públicas y transporte y el diseño", dijo Jacobs. "El objetivo es responder a la pregunta '¿Cómo podemos diseñar calles para crear mejores lugares, barrios más seguros, mejores opciones de movilidad para todos y calles que sean más respetuosas con el medio ambiente?'"
Con esa pregunta en mente, el evento reconoció ocho proyectos de 25 presentaciones, incluyendo la nueva línea de tranvía de Kansas City, Mo. y el Streetscape de Troost Avenue. Otros esfuerzos reconocidos incluyen la Ivanhoe Gateway, un proyecto de vivienda que tiene como objetivo aumentar la propiedad de vivienda para los residentes de bajos ingresos.
"La forma en que construimos y gestionamos las calles está cambiando y evolucionando hacia el futuro", dijo Jacobs. "(En el evento) hablamos sobre la construcción de la comunidad y la revitalización de la comunidad, y hablamos de cómo estos proyectos conectan los puntos a estas ideas".
Para obtener más información sobre cada uno de los esfuerzos de sostenibilidad, visite marc.org.
---
MARC recognizes local sustainability efforts
By Melissa Arroyo
The Mid-America Regional Council (MARC), local government officials and members of the community met on Dec. 8 at the Kauffman Foundation Conference Center in Kansas City, Mo., for the MARC's ninth annual Sustainability Success Stories event.
Each year, this event is held to recognize various sustainability efforts in the community.
"It's been amazing," said Tom Jacobs, MARC environmental program director. "Each year, we've had the opportunity to recognize and celebrate different projects that exemplify different aspects of sustainability."
The program allows various area sustainability efforts to be shown to the community. According to Jacobs, this year's program focused on transportation-specific projects, specifically projects that are striving to become "complete streets."
"In the last 15 years, there's been an evolution in public works and transportation planning and design," Jacobs said. "The goal is to answer the question 'How can we design streets to create better places, safer neighborhoods, better mobility options for everyone and streetscapes that are more environmentally friendly?' "
With that question in mind, the event recognized eight projects out of 25 submissions, including the new Kansas City, Mo., streetcar line and the Troost Avenue Streetscape. Other recognized efforts included the Ivanhoe Gateway, a housing project that aims to increase homeownership for low-income residents.
"How we build and manage streets is changing and evolving into the future," Jacobs said. "(At the event) we talked about community building and community revitalization, and we talked about how these projects connect the dots on these ideas."
To learn more about each of the sustainability efforts, visit marc.org.