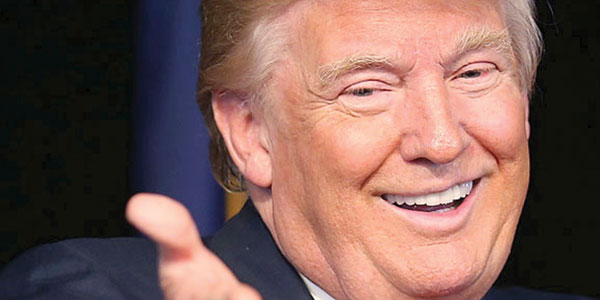 Normalmente, los políticos hacen lo posible para asegurar su asistencia a la ceremonia inaugural del Presidente entrante de los Estados Unidos.
Pero, este año la historia no se repite.
Muchos legisladores ya han confirmado que no asistirán a la ceremonia de inauguración del presidente electo Donald Trump, programada para el viernes (20 de enero) en Washington, DC. Algunos miembros del Congreso anunciaron que asistirán a protestas en Washington y en sus respectivos distritos en vez de asistir a la ceremonia.
Parte del boicot puede ser vinculado a la fricción entre Trump y el representante estadounidense John Lewis. Lewis, una figura icónica de los derechos civiles, explicó que no ve a Trump como un presidente "legítimo" debido a la interferencia de Rusia en las elecciones presidenciales de noviembre de 2016. Trump respondió diciendo que Lewis era "todo hablar, hablar, hablar – sin acción ni resultados", a pesar de los años de trabajo que Lewis brindó en la lucha por los derechos civiles y la igualdad.
Trump nunca anticipó el número de legisladores que boicotearían su inauguración debido a este insulto.
Uno de los primeros legisladores en boicotear tras el insulto de Trump fue el representante Mark Takano, de California. Takano twitteó: "Todo hablar, sin acción." Estoy con @repjohnlewis y no voy a asistir la inauguración. "
Más tarde, la representante Yvette Clarke de Nueva York twitteó: "NO voy a asistir a la inauguración de @realDonaldTrump. Cuando insultas a @repjohnlewis, insultas a América.
Otro político que retrocedió después del insulto de Trump fue el representante Ted Lieu de California. La oficina del representante publicó la siguiente declaración: "Para mí, la decisión personal de no asistir a la inauguración es muy simple: ¿Estoy con Donald Trump o estoy con John Lewis? Estoy con John Lewis."
Los artistas también están boicoteando la inauguración. Sir Elton John fue uno de los primeros nombres que surgieron como posible entretenimiento. Sin embargo, el legendario cantante y compositor ha dejado claro que no quiere que su música esté asociada con Donald Trump.
Otros artistas que han rechazado la invitación de Trump fueron Justin Timberlake, Bruno Mars, Katy Perry y el famoso tenor italiano Andrea Bocelli.
Pero las grandes celebridades no son las únicas que rechazan a Trump. Una banda escolar de Washington, DC, que se ha presentado durante las últimas cinco ceremonias de inauguración, ha decidido que no está interesada este año.
Trump no para de recibir rechazos y aún no es presidente. ¿Alguien estaría dispuesto a hacer negocios con él una vez que asuma el cargo – aparte del presidente ruso Vladimir Putin? Basado en el boicot de su ceremonia de inauguración, la respuesta parece ser no.
__________________________________________________________________________________________________
Who's going?
Analysis by Dermidio Juez-Perez
Normally, politicians will do anything necessary to attend an incoming U.S. president's inauguration ceremony.
This year is different.
Many lawmakers have already confirmed they won't attend President-elect Trump's inauguration ceremony, scheduled for Friday (Jan. 20) in Washington, D.C. Some members of Congress have even announced they'll attend protests in Washington and in their respective districts, instead of attending the ceremony.
Some of the boycotting is linked to the rift between Trump and U.S. Rep. John Lewis. Lewis, an iconic civil rights figure, has publicly said he doesn't see Trump as a "legitimate" president because of Russia's interference in the November 2016 presidential election. Trump responded by saying Lewis was "all talk, talk, talk – no action or results," despite Lewis' years of hard work in fighting for civil rights and equality.
Trump never expected the number of lawmakers that would boycott his inauguration because of his attack on Lewis.
One of the first lawmakers to boycott after Trump's insult was Rep. Mark Takano of California. Takano tweeted: " 'All talk, no action.' I stand with @repjohnlewis and I will not be attending the inauguration."
Later, Rep. Yvette Clarke of New York tweeted: "I will NOT attend the inauguration of @realDonaldTrump. When you insult @repjohnlewis, you insult America."
Another politician that backed down after Trump's insult was Rep. Ted Lieu of California. Recently, the representative's office released the following statement:
"For me, the personal decision not to attend (the) inauguration is quite simple: Do I stand with Donald Trump or do I stand with John Lewis? I am standing with John Lewis."
Entertainers also are boycotting the inauguration. Sir Elton John was among the first names to emerge as a possible performer. However, the legendary singer and songwriter has made it clear he doesn't want his music associated with Donald Trump. Other performers who are rejecting Trump's invitation to attend include Justin Timberlake, Bruno Mars, Katy Perry and famous Italian tenor Andrea Bocelli.
But "A-list" celebrities aren't the only ones rejecting Trump. A Washington, D.C., school band that has performed for the past five inauguration ceremonies has decided it's not interested this year.
Trump is being rejected and hasn't even become president yet. Would anyone be willing to do business with him once he takes office – other than Russian President Vladimir Putin? Based on the boycotting of his inauguration ceremony, the answer appears to be no.