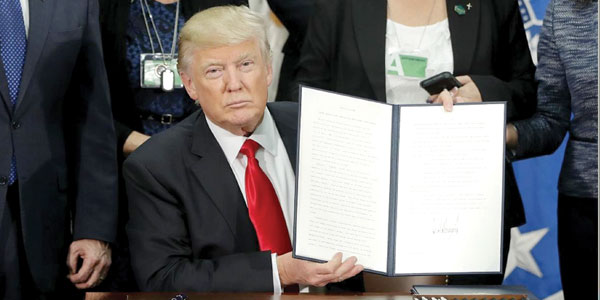 Bajo la administración de Donald Trump, los Estados Unidos se dirige hacia una forma peligrosa de aislacionismo – y hacia convertirse en un país donde las voces de los estadounidenses no son escuchadas.
Menos de dos semanas después de su toma de posesión presidencial, Trump ha firmado órdenes ejecutivas prohibiendo la entrada de tarjeta verde y visados ​​de estudiantes que viajan al extranjero de entrar a los EE.UU. También ha detenido la llegada de refugiados sirios y ha prometido comenzar a construir un muro entre los EE.UU. y nuestro vecino México.
Tales actos directos contra la inmigración han causado preocupación nacional -incluso preocupación mundial – en cuanto a cómo los EE.UU. avanzará como líder del mundo libre. Y en relación con la prohibición de inmigración de Trump, las familias están siendo separadas, mientras que otros están siendo dejados indefensos.
En concreto, la prohibición se dirige a siete países predominantemente musulmanes: Irán, Irak, Libia, Sudán, Somalia, Siria y Yemen. Este enfoque drástico es una de las ideas de Trump para mantener a posibles extremistas musulmanes de entrar a los Estados Unidos. Sin embargo, prohibir a los inocentes de refugios seguros como los EE.UU. podría ser contraproducente y resultar en peores consecuencias para esta nación.
A largo plazo, una acción directa contra los musulmanes podría aumentar el odio hacia esta nación, ya que las mujeres y los niños están siendo rechazados. Afortunadamente, sin embargo, las protestas a nivel nacional están ganando más ímpetu, ya que los activistas por los derechos de los inmigrantes intentan aumentar la conciencia de esta grave situación y obtener apoyo público – y político.
Mientras tanto, como la prohibición de inmigración de Trump afecta a los de ultramar y provoca protestas y disturbios políticos aquí, el muro fronterizo propuesto por el Presidente ha generado controversia. Muchos estadounidenses no se dan cuenta de que la creación de una división física entre los dos países puede conducir al aislamiento de los EE.UU., algo que no es en el mejor interés del país.
Los EE.UU. es una nación construida sobre sus colaboraciones con otros países – y construir un muro crea tensiones, en vez de un buen sentido de colaboración. Esto no solamente es cierto en términos de las relaciones entre los EE.UU. y México, sino también en las relaciones con otros países latinoamericanos.
Trump está creando una plataforma para que los EE.UU. se convierta en un blanco de controversias y escándalos políticos. Avanzando, uno espera que la violencia no se agrave – y que los intereses del pueblo sean escuchados y tratados.
_________________________________________________________________________________________________
Trump's America might become an isolationist country
Commentary by Katherine Diaz
Under the Trump administration, the United States is heading toward a dangerous form of isolationism – and toward becoming a country where Americans' voices aren't heard.
Less than two weeks after his presidential inauguration, Trump has signed executive orders barring green card- and student visa-holders who are traveling abroad from entering the United States. He also has halted the arrival of Syrian refugees and has vowed to begin building a wall between the United States and neighboring Mexico.
Such direct acts against immigration have caused nationwide concern – even worldwide concern – regarding how the United States will move forward as the leader of the free world. And in relation to Trump's immigration ban, families are being separated, while others are being left defenseless.
Specifically, the ban targets seven predominantly Muslim countries: Iran, Iraq, Libya, Sudan, Somalia, Syria and Yemen. This drastic approach is one of Trump's ideas to keep possible Muslim extremists from entering the United States. However, barring innocents from safe havens such as America might backfire and result in worse consequences for this nation.
Over the long term, such direct action against Muslims might increase hatred toward this nation, as women and children are being turned away. Fortunately, however, nationwide protests are gaining more momentum, as immigrant rights activists attempt to increase the awareness of this grave situation and gain public – and political – support.
Meanwhile, as Trump's immigration ban affects those from overseas and causes protests and political turmoil here, the president's proposed border wall has generated controversy. Many Americans don't realize that creating a physical division between the two countries can lead to the isolation of the United States – something that's not in the country's best interests.
The United States is a nation built on its collaborations with other countries – and building a wall creates tensions, rather than a sense of collaboration. This is true not only in terms of U.S.-Mexico relations, but also in terms of relations with other Latin American countries.
Trump is setting up a platform for the United States to become a target of political controversies and scandal. Moving forward, one hopes that violence won't escalate – and that the people's interests are heard and addressed.