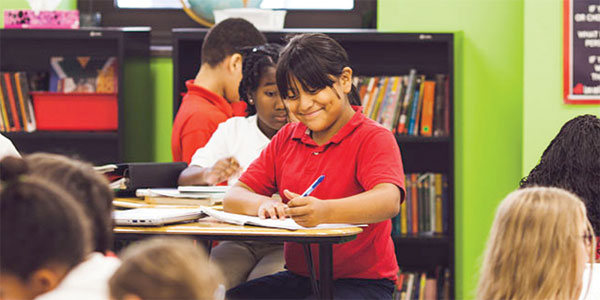 0
A medida que se acerca el año académico, las Escuelas Chárter Crossroads se preparan para el año académico 2017-18 ofreciendo una feria de matriculación este sábado 25 de febrero a las 11 a.m. en 1015 Central St.
El viernes 24 de febrero, la Escuela Chárter de Kansas City, Missouri -que tendrá tres escuelas este otoño, incluyendo un grupo de noveno grado de una nueva preparatoria Crossroads – organizará un recorrido para que los padres y estudiantes le den un vistazo a la escuela.
"Las Escuelas Chárter Crossroads preparan e inspiran a los estudiantes a formar un mejor mañana proporcionando una educación académicamente rigurosa en un ambiente creativo, de colaboración y enfocado en la comunidad", dice el sitio en Internet de la escuela sobre su misión.
Todas las solicitudes deben entregarse antes del 1º de marzo. En ese momento, todos los solicitantes serán colocados en una lotería, y se les dará prioridad a los que vivan en la "gran área de la zona centro" el cual está definida por la escuela en el oeste y este entre State Line Road y Prospect, y al norte y sur por el río Missouri y calle 39. Los estudiantes que sean elegidos tendrán la opción de matricularse en una de tres escuelas gratis de Crossroads..
Para el año académico 2017-18, los grados de kínder a 4º  grado estarán en Crossroads Academy-Quality Hill. Los grados de kínder al 8º asistirán a Crossroads Academy-Central Street. La nueva preparatoria iniciará en el campus Quality Hill y se trasladará a otra localidad en el semestre del otoño del 2018.
"Todos los padres de familia que estén comprometidos de manera personal a las altas expectativas y deseen que su hijo aprenda en un ambiente académicamente riguroso se les invita a que soliciten admisión", dice el sitio de Internet de la escuela.
________________________________________________________________________________________
Crossroads Charter Schools to host enrollment fair
By Nicholas Peterson
As the academic year approaches its final lap, Crossroad Charter Schools is gearing up for the 2017-18 academic year by hosting an enrollment fair at 11 a.m. this Saturday (Feb. 25) at 1015 Central St.
On Friday (Feb. 24), the Kansas City, Mo., charter school – which will have three schools this fall, including the founding ninth-grade class of a new Crossroads High School – will hold an enrollment tour to give parents and students a peak of the school.
"Crossroads Charter Schools prepare and inspire students to build a better tomorrow by providing an academically rigorous education in a creative, collaborative, community-focused environment," the school's website says of its mission.
All applications are due by March 1. At that time, all applicants will be placed in a lottery, with priority given to those living in the "Greater Downtown Area," defined by the school on the west and east between State Line Road and Prospect, and on the north and south by the Missouri River and 39th Street. Students who are drawn will have the option to enroll in one of Crossroads' three tuition-free schools.
For the 2017-18 academic year, grades K-4 will be at Crossroads Academy-Quality Hill. Grades K-8 will attend Crossroads Academy-Central Street. The new high school will start at the Quality Hill campus and move to another location in the fall semester of 2018.
"All parents who are personally committed to high-expectations and want their child to learn in an academically rigorous environment are encouraged to apply," the school's website says.