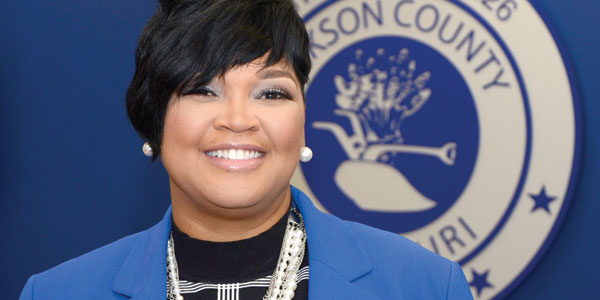 Jackson County, Mo., Executive Frank White Jr. announced on Monday (Feb. 27) that Teesha Miller had been hired to serve as director of the county's new Prescription Drug Monitoring Program (PDMP), effective that day.
"We know that prescription drug monitoring programs are vital to help combat the opioid epidemic," White said. "Jackson County is doing everything we can to help fight prescription drug abuse in our area, and we will continue until the state establishes its own program."
Recently, the Kansas City (Mo.) Health Department estimated that up to 26,000 people in Jackson County might be addicted to some form of prescription drugs.
To help Jackson County fight prescription drug addiction, Miller will work closely with the county's counterparts in St. Louis to launch and manage the PDMP. In late 2016, the Jackson County Legislature approved creating a county PDMP, in partnership with St. Louis County, with a formal signing of the partnership agreement held early this year.
Miller's other duties will include supporting efforts to coordinate regulatory and policy efforts with representatives from federal, state and local entities.
A PDMP creates an electronic database on opioid and other controlled substance prescriptions dispensed within a given jurisdiction. PDMPs help prevent an individual from receiving multiple prescriptions for the same opioids or controlled substances, making it more difficult for such drugs to be abused.
PDMPs also can improve coordination of patient care among various healthcare providers to pursue the goal of better pain management and reduced deaths associated with abuse and accidental overdose because of confusion about drug interactions.
The Missouri General Assembly has considered PDMP legislation for the past 12 years, but has failed to pass anything. Missouri is the only state in the country without a PDMP.
---
Miller nombrada como nueva directora del PDMP en el condado de Jackson
El ejecutivo del condado de Jackson,  Frank White anunció el lunes (27 de febrero) que Teesha Miller había sido contratada para actuar como directora del nuevo programa de monitoreo de medicamentos recetados (PDMP, por sus siglas en inglés) del condado.
"Sabemos que los programas de monitoreo de medicamentos recetados son vitales para ayudar a combatir la epidemia de opioides", indicó White. "El condado de Jackson está haciendo todo lo posible para ayudar a combatir el abuso de medicamentos recetados en nuestra área y continuaremos hasta que el estado establezca su propio programa".
Recientemente, el Departamento de Salud de Kansas City (Mo.) estimó que hasta 26,000 personas en el Condado de Jackson podrían ser adictas a algún tipo de medicamento recetado.
Para ayudar al condado de Jackson a combatir la adicción a las drogas recetadas, Miller trabajará en estrecha colaboración con las contrapartes del condado en St. Louis para lanzar y administrar el PDMP. A finales de 2016, la Legislatura del Condado de Jackson aprobó la creación de un PDMP, en asociación con el condado de St. Louis, con la firma formal del acuerdo de asociación celebrado a principios de este año.
Otras funciones de Miller incluirán el coordinar los esfuerzos de regulación y políticas con representantes de entidades federales, estatales y locales.
Un PDMP crea una base de datos electrónica sobre las prescripciones de opioides y otras sustancias controladas dispensadas dentro de determinada jurisdicción. Los PDMP ayudan a prevenir que un individuo reciba múltiples prescripciones para los mismos opioides o sustancias controladas, lo que dificulta el abuso de estos fármacos.
PDMP también puede mejorar la coordinación de los pacientes entre los proveedores de atención médica para conseguir un mejor tratamiento del dolor y la reducción de las muertes asociadas con el abuso y la sobredosis accidental debido al mal uso de los medicamentos.
La Asamblea General de Missouri ha considerado la legislación PDMP durante los últimos 12 años, pero no ha logrado aprobar nada. Missouri es el único estado en el país sin PDMP.