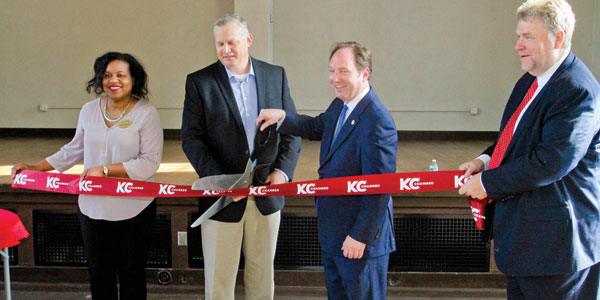 Switzer Lofts realiza la exhibición de una casa para mostrar los resultados de las renovaciones
Después de más de 20 años desocupado y deteriorado, un complejo escolar de cinco edificios se ha convertido en el hogar para múltiples familias con 114 apartamentos.
Construido entre 1899 y 1958, el complejo sirvió como escuela durante más de 100 años en el barrio de Westside en Kansas City, Missouri. Ahora, se conoce como The Switzer Lofts. Una exhibición de la casa se llevó a cabo en abril para mostrar el complejo al público.
Un proyecto de reutilización histórica adaptable de $ 24 millones con más de 150,000 pies cuadrados, el complejo cuenta con apartamentos que están construidos para equilibrar la arquitectura histórica con diseño de apartamentos urbanos contemporáneos.
Foutch Brothers LLC pasó aproximadamente un año planificando y diseñando el proyecto, y navegando los procesos de aprobación de proyectos.
---
Westside school complex revamped into multifamily apartment complex
Switzer Lofts hosts open house to display results of renovations
After more than 20 years of vacancy and blight, a five-building school complex has been turned into a 114-unit multifamily apartment development complex.
Built between 1899 and 1958, the complex served as a school site for more than 100 years in Kansas City, Mo.'s Westside neighborhood. Now, it's known as The Switzer Lofts. An open house was held in April to help introduce the public to the complex.
A $24-million historic adaptive reuse project with more than 150,000 square feet, the complex features apartments that are built to balance historic architecture with contemporary urban apartment design.
Foutch Brothers LLC spent approximately a year planning and designing the project, and navigating the project approval processes.