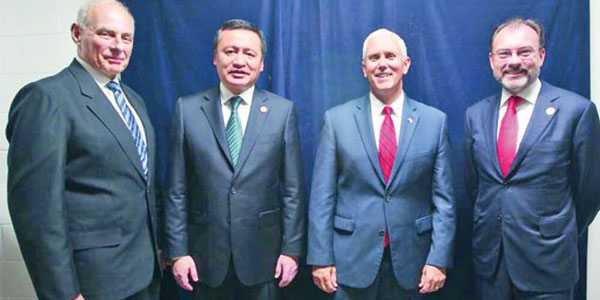 By Dermidio Juez-Perez
Regional issues addressed during two-day conference
On June 15 and 16, U.S. Vice President Mike Pence and other Cabinet members met with regional presidents and top Mexican officials in Miami to address some of the most worrisome issues plaguing El Salvador, Guatemala and Honduras.
They did so through the Conference on Prosperity and Security. Co-hosted by the United States and Mexico, the conference addressed such issues as drug trafficking, gang violence and other criminal activities that have increased drastically during the past three years and have accounted for 50,000 murders.
"The co-hosting of the conference by Mexico is crucial since Mexico is an invaluable partner with a shared interest in improving conditions in Central America," Deputy Assistant Secretary of State John S. Creamer said.
Mexican Secretary of Foreign Affairs Luis Videgaray agreed with Creamer, stating that "the development of Central America is a responsibility shared with the United States."
Despite President Trump's repeated attacks on Mexico, some followers of U.S. politics see the conference as an indication that Department of Homeland Security Secretary John Kelly sees Mexico as a potential ally in the effort to combat illegal immigration. They also interpret it as Kelly believing that border security starts 1,500 miles to the south of the United States along Mexico's border with its Central American neighbors.
"The focus here … is how we stimulate private economic investments in the three Central American republics," Kelly said.
Those involved with the conference hope it will build on the Alliance for Prosperity, a program that began in 2014 during the Obama administration and is aimed at stemming Central American migration through economic development and improved security.
---
Líderes estadounidenses, mexicanos y centroamericanos se reúnen en Miami
Temas regionales tratados durante la conferencia de dos días
El 15 y 16 de junio, el vicepresidente estadounidense Mike Pence y otros miembros del gabinete se reunieron con presidentes regionales y altos funcionarios mexicanos en Miami para tratar algunos de los temas más preocupantes que afectan a la región y en especial a El Salvador, Guatemala y Honduras.
Lo hicieron a través de la Conferencia sobre Prosperidad y Seguridad. Co-organizada por los Estados Unidos y México, la conferencia abordó temas como el narcotráfico, la violencia de pandillas y otras actividades delictivas que han aumentado drásticamente durante los últimos tres años y han representado 50.000 asesinatos.
"El co-anfitrión de la conferencia por México es crucial ya que México es un socio invaluable con un interés común en mejorar las condiciones en Centroamérica", dijo el subsecretario de Estado, John S. Creamer.
El secretario de Relaciones Exteriores de México, Luis Videgaray, estuvo de acuerdo con Creamer, afirmando que "el desarrollo de América Central es una responsabilidad compartida con los Estados Unidos".
A pesar de los reiterados ataques del presidente Trump a México, algunos seguidores de la política estadounidense ven la conferencia como una indicación de que el Secretario del Departamento de Seguridad Nacional, John Kelly, ve a México como un aliado importante en el esfuerzo para combatir la inmigración ilegal. Esto también fue interpretado como una señal que Kelly cree que la seguridad fronteriza comienza 1.500 millas al sur de los Estados Unidos a lo largo de la frontera de México con sus vecinos centroamericanos.
"El enfoque aquí … es cómo estimulamos las inversiones económicas privadas en las tres repúblicas centroamericanas", dijo Kelly.
Los participantes en la conferencia esperan que se base en la Alianza para la Prosperidad, un programa que comenzó en 2014 durante el gobierno de Obama y tiene como objetivo detener la migración centroamericana a través del desarrollo económico y la mejora de la seguridad.