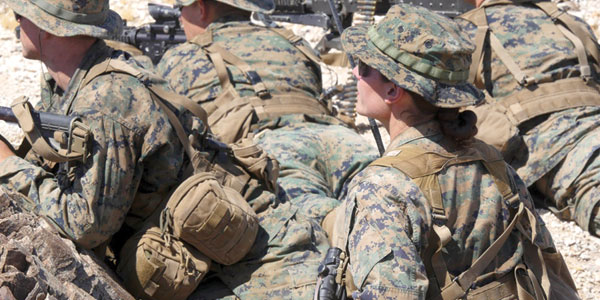 By Melissa Arroyo
On Monday (Sept. 25), the U.S. Marine Corps welcomed its new infantry officers.
One of them was a woman.
First reported on Sept. 21 by the Washington Post, the woman was the first to complete the corps' rigorous 13-week officer infantry training course in its 242-year history. The woman who completed the program chose to keep her identity private.
"I am proud of this officer and those in her class" who have earned the infantry officer MOS (military occupational specialty)," said Marine Corps Commandant Gen. Robert Neller in a news release.
Designed to simulate combat by performing demanding combat activity under stressful conditions, the program was opened to women in 2012, with 32 women enrolled as an experiment conducted before the Department of Defense formally opened all military occupational specialties to women in 2016.
The program is known to be among the toughest in the military, with a 25 percent dropout rate and non-stop grueling activities, including hiking long distances while carrying loads of up to 150 pounds and completing challenging obstacles. According to General Neller's statement, 131 Marines started the course in July and 88 completed it.
---
El Cuerpo de Marines anuncia la primera mujer oficial de infantería
El lunes (25 de septiembre), el Cuerpo de Marines de los Estados Unidos dio la bienvenida a sus nuevos oficiales de infantería.
Uno de ellos era una mujer.
Informada por primera vez el 21 de septiembre por el Washington Post, la mujer fue la primera en completar el riguroso curso de entrenamiento de infantería de 13 semanas en su historia de 242 años. La mujer que completó el programa decidió mantener su identidad privada.
"Estoy orgulloso de esta oficial y los de su clase que se han ganado el oficial de infantería MOS (especialidad ocupacional militar)", dijo el comandante del Cuerpo de Marines, general Robert Neller, en un comunicado de prensa.
Diseñado para simular el combate realizando actividades de combate exigentes bajo condiciones estresantes, el programa se abrió a las mujeres en 2012, con 32 mujeres inscritas como un experimento realizado antes de que el Departamento de Defensa abriera formalmente todas las especialidades ocupacionales militares a las mujeres en 2016.
El programa es conocido por ser uno de los más difíciles en el ejército, con una tasa de deserción del 25 por ciento y las actividades agotadoras sin parar, incluyendo caminatas de largas distancias mientras cargando 150 libras y completando obstáculos desafiantes. Según la declaración del General Neller, 131 Marines iniciaron el curso en julio y 88 lo completaron.