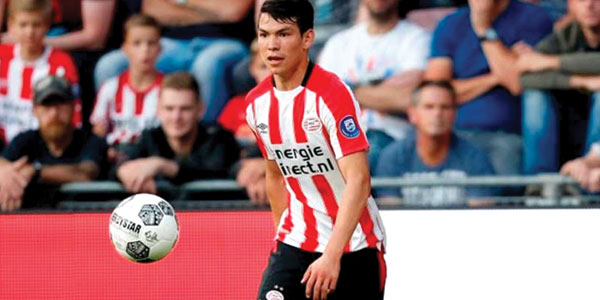 El jugador mexicano Hirving Lozano se ha convertido una sensación en Holanda. El mexicano ya suma 9 goles en sus 10 últimos partidos, convirtiéndose en el líder goleador de dicha liga. Lozano estuvo ausente en el último partido con su equipo, el PSV a causa de una lesión que sufrió con la selección mexicana, pero ya se encuentra de vuelta a las canchas en donde seguirá rompiendo la red.
DT del Porto desmiente rumores de Iker Casillas
El estratega del Porto FC, Sergio Conceição aseguró que Iker Casillas fue a la banca del equipo no por su mal comportamiento sino por otras razones. Diversos medios en Europa señalaban que el arquero español se encontraba en la banca del equipo por usar demasiado el celular, situación que fue desmentida por el DT del equipo, que no dio más detalles sobre la ausencia de Iker en la cancha.
Equipo mexicano gana plata en Mundial de Tiro con Arco
El equipo mexicano de arco integrado por Aida Román, Mariana Avitia y Alejandra Valencia se consagraron en el Mundial de Tiro con Arco tras llevar a México la presea de plata. La final la jugaron contra Corea, equipo con el que ha crecido la rivalidad en los últimos años. Las mexicanas cayeron ante las coreanas 6-2 en la final y se ubican como el segundo mejor equipo del mundo en Tiro con Arco.
Héctor Moreno hace su debut con AS Roma
El mexicano Héctor Moreno por fin tuvo su debut con el AS Roma en el encuentro en el que la Roma se enfrentó a Turín, equipo al que venció 1-0. Con este resultado, la Roma se ubica en el quinto lugar en la tabla de posiciones de la Serie A. El buen desempeño del mexicano, lo podría llevar a que siga siendo titular con el equipo.
Sergio Agüero entre los mejores goleadores del City
En el partido ante Burnley, Sergio Agüero se convirtió en uno de los máximos goleadores del Manchester City tras igualar a Eric Brook con 177 tantos. El jugador argentino se ha destacado con sus actuaciones con el City tras regresar de un accidente automovilístico hace unas semanas.
Los ganadores de The Best
Como cada año, los premios The Best de la FIFA se llevaron a cabo para galardonar a lo mejor del fútbol en el mundo. Este año los ganadores incluyeron al DT del Real Madrine, Zinedine Zidane, al jugador portugués Cristiano Ronaldo y a la jugadora de Holanda Lieke Martens. Todos ellos fueron reconocidos por su gran trabajo en las canchas.