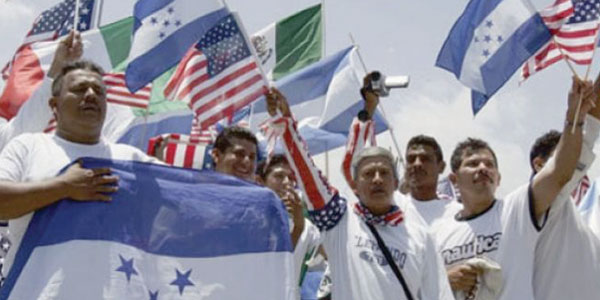 Both will need to reapply soon
The Department of Homeland Security has announced changes to the Temporary Protected Status program for Nicaragua and Honduras. TPS holders from both countries will be allowed to renew their status and work permits at least one more time. Attorney Jessica Piedra also suggests that they meet with an attorney to make a more permanent plan.
Acting Secretary Elaine Duke decided that Nicaragua no longer needs TPS and it will end for that country. The program will be extended one last time for 12 months so that Nicaraguans with TPS can make arrangements to return to their home countries. Nicaragua was set to expire on January 5, 2018, and will be extended through January 5, 2019.
She also reported on the status of Honduras. Duke stated that no decision can be made, so Honduras will be automatically extended for six months beyond the current end date also on January 5, 2018. There will be future announcements about when TPS will end for Hondurans.
Both Hondurans and Nicaraguans will need to re-register their Temporary Protected Status to extend their work permits. Applicants should get ready now with their documents and money for the new applications. They will be given the standard 60-day window to submit the applications and it will likely start soon. The current filing fee is $495.00. If the application is submitted on time, their current work permits will be extended automatically by six months.
Temporary Protected Status is given to persons inside the United States if they cannot return home due to a natural disaster or other circumstance. Nicaragua and Honduras were given TPS in 1999 due to the devastation caused by Hurricane Mitch. Duke states that Nicaragua has now recovered and that it's government did not request that TPS be extended. She states that she needs more information about the status of Honduras.
Acting Secretary Duke called on Congress to pass a permanent solution for immigrants with TPS status as most have been in the United States for over two decades. While waiting for Congress, it is important for each family to review their options under the current law. All TPS holders should meet with an immigration attorney to make a plan for their future. "Many of our TPS clients have almost adult US citizen children. We are advising they consider applying for a travel permit and traveling outside the United States to have a legal entry. This may allow them to obtain permanent residency through their family members. However, it is important to meet with a qualified immigration attorney prior to taking any action," says Attorney Jessica Piedra.
The government has now ended TPS for Haiti, Sudan, Guinea, Liberia, Sierra Leone and now Nicaragua. The largest group of TPS holders is from El Salvador. Their designation will be under review soon as the current program ends on March 9, 2018.
---
Cambios al TPS para Nicaragua y Honduras
Ambos necesitarán volver a postularse pronto
El Departamento de Seguridad Nacional ha anunciado cambios al programa de Estatus de Protección Temporal para Nicaragua y Honduras. Los titulares de TPS de ambos países podrán renovar su estado y permisos de trabajo al menos una vez más. La abogada Jessica Piedra también sugiere que se reúnan con un abogado para hacer un plan más permanente.
La Secretaria Elaine Duke decidió que Nicaragua ya no necesita TPS y le pondrá fin al programa para ese país. El programa se extenderá una última vez durante 12 meses para que los nicaragüenses con TPS puedan hacer arreglos para regresar a sus países de origen. Nicaragua debía expirar el 5 de enero del 2018 y se extenderá hasta el 5 de enero del 2019.
También informó sobre el estado de Honduras. Duke declaró que no se puede tomar una decisión, por lo que Honduras se extenderá automáticamente por seis meses más allá de la fecha de finalización actual, también el 5 de enero del 2018. Habrá anuncios futuros sobre cuándo terminará TPS para los hondureños.
Tanto hondureños como nicaragüenses deberán volver a registrar su Estatus de Protección Temporal para extender sus permisos de trabajo. Los solicitantes ahora deberán prepararse con sus documentos y dinero para las nuevas aplicaciones. Se les dará la ventana estándar de 60 días para enviar las aplicaciones y es probable que comiencen pronto. El costo actual de presentación es de $495.00. Si la solicitud se envía a tiempo, sus permisos de trabajo actuales se extenderán automáticamente por seis meses.
El Estatus de Protección Temporal se otorga a personas dentro de Estados Unidos que no pueden regresar a su hogar debido a un desastre natural u otra circunstancia. Nicaragua y Honduras recibieron TPS en 1999 debido a la devastación causada por el huracán Mitch. Duke afirma que Nicaragua se ha recuperado y que su gobierno no solicitó que se prorrogue TPS. Ella afirma que necesita más información sobre el estado de Honduras.
El Secretario interino Duke pidió al Congreso que apruebe una solución permanente para los inmigrantes con estatus de TPS ya que la mayoría ha estado en los Estados Unidos durante más de dos décadas. Mientras espera al Congreso, es importante que cada familia revise sus opciones según la ley actual. Todos los beneficiarios de TPS deben reunirse con un abogado de inmigración para hacer un plan para su futuro. "Muchos de nuestros clientes con TPS tienen hijos casi adultos que son estadounidenses. Aconsejamos que consideren solicitar un permiso de viaje y viajar fuera de los Estados Unidos para tener una entrada legal. Esto puede permitirles obtener la residencia permanente a través de sus familiares. Sin embargo, es importante reunirse con un abogado de inmigración calificado antes de tomar cualquier decisión," indicó la abogada Jessica Piedra.
El gobierno ahora ha terminado TPS para Haití, Sudán, Guinea, Liberia, Sierra Leona y ahora Nicaragua. El grupo más grande de titulares de TPS es de El Salvador. Su designación estará bajo revisión pronto ya que el programa actual termina el 9 de marzo de 2018.