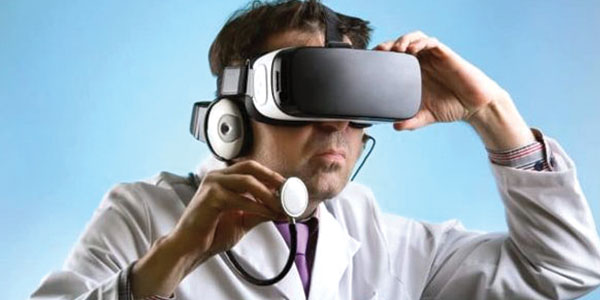 By Chara
Technology is allowing people more options for treatment when they become ill.
One form of treatment is virtual medicine. Virtual medicine allows patients to see a doctor by using a cellphone, tablet or personal computer. The doctor can work with the patient by using a mobile app, an audio or video conversation or a web conference.
Virtual medicine is focused on treating common medical conditions, including fevers, colds, the flu, upper respiratory infections, blood pressure issues, diabetes, sleep apnea, stomachaches, urinary infections and skin rashes.
There are multiple apps that provide patients with virtual medical care, including the following:
*DoctorOnDemand: Patients who use this phone app may receive virtual care from doctors who are qualified to treat non-emergency medical issues. Those include approving the refill of prescriptions and prescribing medicines for colds, the flu, urinary tract infections, back pain, heartburn and pediatric issues. Psychological counseling also is available. Cost per visit is $40 for a physician. A virtual psychological therapy session ranges from $50 for 25 minutes to $95 for 50 minutes.
*HelloMD: This app for computers, phone and tablets allows patients to see specialists. Appointments take 24 hours to schedule, and doctors get in touch with their patients via a video call. Doctors set their own fees.
*LiveHealth Online: Available on the web and for mobile devices, this app allows patients to see a doctor using a video call. Moreover, LiveHealth Online is accepted by some insurance plans. If an insurance provider doesn't accept it, patients can pay a $49 consultation fee.
*Maven: Available for computers and mobile devices, this app is designed for women's healthcare. Patients have access to a nurse practitioner for $18; a nutritionist, lactation consultant or physical therapist for $25; a doctor for $35; and a mental health practitioner for $70.
All the above apps are available through the Apple Store or the Google Store.
---
Medicina virtual esta ofreciendo más opciones de tratamientos para la salud
La tecnología está permitiendo a las personas más opciones de tratamiento al momento de enfermarse.
Una forma de tratamiento es la medicina virtual. La medicina virtual permite que los pacientes vean a un médico usando un teléfono celular, tableta o computadora personal. El médico puede trabajar con el paciente mediante una aplicación móvil, conversación de audio o video o una conferencia web.
La medicina virtual se centra en el tratamiento de situaciones médicas comunes como fiebres, resfríos, gripe, infecciones de las vías respiratorias superiores, problemas de presión arterial, diabetes, apnea del sueño, dolores de estómago, infecciones urinarias y sarpullidos en la piel.
Dentro de las múltiples aplicaciones que brindan atención médica virtual a los pacientes, están los siguientes:
* DoctorOnDemand: Los pacientes que usan esta aplicación de teléfono pueden recibir atención virtual de médicos calificados para tratar problemas médicos que no sean de emergencia. Entre ellos, se incluye aprobar el reabastecimiento de recetas y recetar medicamentos para resfríos, gripe, infecciones urinarias, dolor de espalda, acidez y problemas pediátricos. El asesoramiento psicológico también está disponible. El costo por cita es de $40 para un médico. Una sesión de terapia psicológica virtual oscila entre $50 por 25 minutos y $95 por 50 minutos.
* HelloMD: Esta aplicación para computadoras, teléfonos y tabletas les permite a los pacientes ver a especialistas. Las citas tardan 24 horas en programarse y los médicos se ponen en contacto con sus pacientes a través de una videollamada. Los médicos establecen sus propias tarifas.
* LiveHealth Online: Disponible en la web y para dispositivos móviles, esta aplicación permite a los pacientes consultar a un médico mediante una videollamada. Además, LiveHealth Online es cubierto por algunos planes de seguro. Si su proveedor de seguros no lo acepta, los pacientes pueden pagar una tarifa de consulta de $49.
* Maven: Disponible para computadoras y dispositivos móviles, esta aplicación está diseñada para la salud de la mujer. Los pacientes tienen acceso a una enfermera practicante por $18, un nutriólogo, consultor de lactancia o fisioterapeuta por $25, un doctor por $35 y un practicante de salud mental por $70.
Todas las aplicaciones están disponibles a través de Apple Store o Google Store.