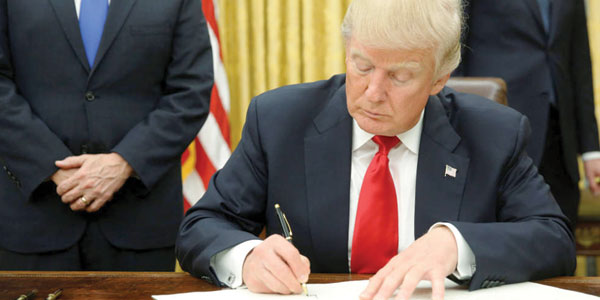 Analysis by Tere Siqueira
Politically speaking, one way to remember 2017 is as a year of political division – specifically, within the United States, and between the United States and other countries.
Some of the issues that caused – or worsened – divisions between the United States and other nations during 2017 included the following:
*Travel ban: On Jan. 27, President Trump signed an executive order stopping the U.S. Refugee Admissions Program and imposing a travel ban, sparking a legal fight for much of the year and leading to revisions of the travel ban. The order imposed a visa suspension for anyone arriving from one of a list of Muslim-majority countries. Trump's latest version of his travel ban, which took effect in October, imposed restrictions on some countries that aren't predominantly Muslim, including Venezuela.
*Jerusalem decision: On Dec. 6, Trump recognized Jerusalem as the capital of Israel and began relocating the U.S. Embassy there from Tel Aviv. The action sparked controversy and fears of triggering violence against Americans and U.S. interests.
Trump's decision also defied appeals from allied leaders in the Middle East and Europe, who feared the decision could damage American foreign policy goals and relationships. His decision has reportedly caused breaches with allies such as Egypt, Jordan, Great Britain, France and Japan.
*Tensions with North Korea: North Korea conducted multiple missile tests and one nuclear test in 2017. According to a study, U.S. and North Korean relations hit historic lows during 2017.
*NAFTA negotiations: During 2017, Trump repeatedly threatened to withdraw the United States from NAFTA. Some political and business analysts fear that pulling out of the pact could have harmful, unintended economic consequences, such as higher costs for U.S. companies and consumers.
*Relationships with China and Russia: China and Russia were accused of challenging American power, influence and interests; and attempting to erode American security and prosperity. Trump has stated that he plans to be tough on China going forward.
*Other immigration issues: In 2017, deportations from the United States were down, but immigration-related arrests increased. And although Trump has failed to build the border wall between Mexico and the United States, as promised during his 2016 election campaign, his administration took steps to start limiting immigration during 2017. In September, for example, he signed an order to halt the Deferred Action for Childhood Arrivals program (at press time, the program's status was uncertain, as a recent New York Daily News editorial mentioned). Moreover, the administration drastically increased immigration-related challenges and slowed the process for all people seeking visas and green cards.
---
Recordando el 2017: un año de división política
Políticamente hablando, una forma de recordar el 2017 es como un año de división política, específicamente dentro de los Estados Unidos y entre éste y otros países.
Algunos de los problemas que causaron, o empeoraron, las divisiones entre Estados Unidos y otras naciones durante el 2017 incluyen los siguientes:
* Prohibición de viaje: El 27 de enero, el presidente Trump firmó una orden ejecutiva para detener el Programa de Admisión de Refugiados de los EE. UU. e imponer una prohibición de viaje, provocando una lucha legal durante gran parte del año y llevando a revisiones de la prohibición de viajar. La orden impuso una suspensión de visa para cualquier persona que llegue de una lista de países de mayoría musulmana. La última versión de Trump de su prohibición de viaje, que entró en vigencia en octubre, impuso restricciones a algunos países que no son predominantemente musulmanes, incluyendo a Venezuela.
* Decisión de Jerusalén: El 6 de diciembre, Trump reconoció a Jerusalén como la capital de Israel y comenzó a reubicar allí la embajada de EE. UU. del Tel Aviv. La acción generó controversia y temores de provocar violencia contra los estadounidenses y los intereses de los EE.UU.
La decisión de Trump también desafió las apelaciones de los líderes aliados en Medio Oriente y Europa, que temían que la decisión pudiera dañar los objetivos y las relaciones de la política exterior estadounidense. Según los informes, su decisión causó una ruptura con aliados como Egipto, Jordania, Gran Bretaña, Francia y Japón.
* Tensiones con Corea del Norte: Corea del Norte llevó a cabo múltiples pruebas de misiles y una prueba nuclear en el 2017. Según un estudio, las relaciones entre los EE. UU. y Corea del Norte alcanzaron mínimos históricos durante el 2017.
* Negociaciones del TLCAN: Durante el 2017, Trump amenazó repetidamente con retirar a los Estados Unidos del TLCAN. Algunos analistas políticos y empresariales temen que retirarse del tratado podría tener consecuencias económicas perjudiciales e involuntarias, como mayores costos para las empresas y los consumidores de EE.UU.
* Relación con China y Rusia: China y Rusia fueron acusadas de desafiar el poder, la influencia y los intereses estadounidenses y por tratar de debilitar la seguridad y la prosperidad de Estados Unidos. Trump ha declarado que planea ser duro con China en el futuro.
* Otros asuntos de inmigración: En 2017, las deportaciones de los Estados Unidos disminuyeron, pero las detenciones relacionadas con la inmigración aumentaron. Y aunque Trump no ha logrado construir el muro fronterizo entre México y Estados Unidos, como se había prometido durante su campaña electoral del 2016, su gobierno tomó medidas para comenzar a limitar la inmigración durante el 2017. En septiembre, por ejemplo, firmó una orden para detener la el programa de Acción Diferida para los Llegados en la Infancia (al cierre de esta edición, el estado del programa era incierto, como se menciona en un artículo reciente del New York Daily News). Además, el gobierno aumentó drásticamente los desafíos relacionados con la
inmigración y ralentizó el proceso para todas las personas que buscan visas y tarjetas de residencia.