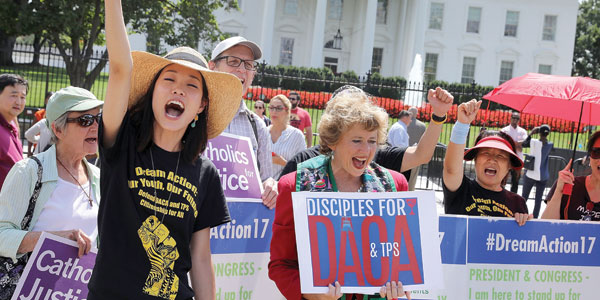 By Chara
Based on a court ruling, it appears the Deferred Action for Childhood Arrivals (DACA) program won't end in March.
On Tuesday night (Jan. 9) in California, U.S. District Judge William Alsup ruled that President Trump's order in late 2017 to end the program in March unless Congress could find a way to save it was illegal. Alsup called the Trump administration's decision to rescind DACA "arbitrary, capricious and (an) abuse of discretion."
The judge also wrote that President Trump's decision contradicted comments the president had made via Twitter in support of the program. Indeed, in September 2017, the president tweeted: "Does anybody really want to throw out good, educated and accomplished young people who have jobs, some serving in the military? Really!"
The ruling will allow DACA holders to renew their status. However, the Department of Homeland Security won't accept new DACA applications.
President Trump reacted to the decision by tweeting: "It just shows everyone how broken and unfair our court system is when the opposing side in a case (such as DACA) always runs to the 9th Circuit and almost always wins before being reversed by higher courts."
Many political analysts believe the Trump administration will appeal Alsup's decision. They also believe the decision is designed to push federal lawmaker to work toward a long-term solution to save the program.
Kansas City area Latinos such as Juan Perez and Danny Diaz supported the decision.
"I'm really happy to be able to stay in this country where I grew up," said Perez, a Shawnee, Kan., resident. "I have been positive all this time, and I have faith that a permanent solution will come soon."
Danny Diaz, a Lenexa student, called the ruling "a good opportunity for the program to get back," but said he "would like to see something that allows me to legalize my immigration status."
"Being part of DACA allows me to do many things," Diaz said. "But I would love to go to college, get financial aid and travel to Mexico to see my family."
Created in 2012 by the Obama administration, DACA is designed to give young undocumented immigrants the possibility of attending college and living a regular live in the United States. An estimated 690,000 people are part of the program.
___________________________________________________________________________________________________
El juez federal lanza un mandato para mantener el programa DACA
Con base en un fallo judicial, parece que el programa de Acción Diferida para Llegados en la Infancia (DACA) no terminará en marzo.
El martes por la noche (9 de enero) en California, el juez de distrito de los Estados Unidos William Alsup dictaminó que la orden del presidente Trump a finales del 2017 de finalizar el programa en marzo a menos que el Congreso pudiera encontrar una manera de salvarla era ilegal. Alsup llamó a la decisión del gobierno de Trump de rescindir DACA "arbitraria, caprichosa y un abuso de prudencia".
El juez también escribió que la decisión del Presidente Trump contradijo los comentarios que el Presidente había hecho a través de Twitter en apoyo del programa. De hecho, en septiembre del 2017, el presidente tuiteó: "¿Alguien realmente quiere echar a los jóvenes buenos, educados y exitosos que tienen trabajo, algunos sirviendo en el ejército? ¡De verdad!"
El fallo permitirá a los titulares de DACA renovar su estado. Sin embargo, el Departamento de Seguridad Nacional no aceptará nuevas aplicaciones DACA.
El presidente Trump reaccionó a la decisión al tuitear: "Simplemente muestra a todos cuán desmoralizado e injusto es nuestro sistema judicial cuando el lado opuesto en un caso (como DACA) siempre corre al Noveno Circuito y casi siempre gana antes de ser revocado por tribunales superiores"
Muchos analistas políticos creen que el gobierno de Trump apelará la decisión de Alsup. También creen que la decisión está diseñada para empujar al legislador federal a trabajar para lograr una solución a largo plazo para salvar el programa.
Los latinos del área de Kansas City como Juan Pérez y Danny Díaz apoyaron la decisión.
"Estoy muy feliz de poder quedarme en este país donde crecí", indicó Pérez, residente de Shawnee, Kansas. "He sido positivo todo este tiempo, y tengo fe en que una solución permanente llegará pronto".
Danny Diaz, una estudiante de Lenexa, calificó el fallo como "una buena oportunidad para que el programa regrese", pero dijo que "me gustaría ver algo que me permita legalizar mi situación migratoria".
"Ser parte de DACA me permite hacer muchas cosas", mencionó Díaz. "Pero me encantaría ir a la universidad, obtener ayuda financiera y viajar a México para ver a mi familia".
Creada en el 2012 por la administración de Obama, DACA está diseñada para brindarles a los inmigrantes indocumentados la posibilidad de asistir a la universidad y vivir una vida regular en los Estados Unidos. Se estima que 690,000 personas son parte del programa.