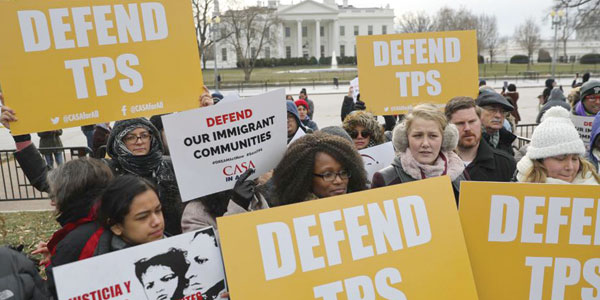 By Chara
On Monday (Jan. 8), the Trump administration decided to end the Temporary Protected Status (TPS) program for Salvadorian immigrants.
Created after several earthquakes had struck El Salvador in 2001, the program was designed to offer humanitarian help to Salvadorians by allowing them to legally work and live in the United States. According to news reports, more than 200,000 Salvadorians will have to leave the country after more than a decade in the United States.
"The decision to terminate TPS for El Salvador was made after a review of the disaster-related conditions upon which the country's original designation was based and an assessment of whether those originating conditions continue to exist, as required by statute," the U.S. Department of Homeland Security (DHS) stated in a press release. "Based on careful consideration of available information, including recommendations received as part of an inter-agency consultation process, the secretary (of homeland security) determined that the original conditions caused by the 2001 earthquakes no longer exist. Thus, under the applicable statute, the current TPS designation must be terminated."
Salvadorians are expected to leave the country within the next 18 months. However, Salvadorians who are eligible may apply for other protections.
The DHS announced that it'll work with the Department of State and the government of El Salvador to educate stakeholders and facilitate an orderly transition.
For Pedro Ramirez, a Salvadorian residing in Connecticut, the news came as a shock.
"I came to the United States and started a new life," Ramirez said. "The U.S. is my home. We are not bad immigrants. We pay our taxes, we help the economy – and now, they want to send us back. I don't know what to tell my children. They know that the U.S. is their home."
Salvadorians aren't the only immigrants losing their TPS status. Recently, the Trump administration decided to end protection for more than 59,000 Haitians living in the United States. The Haitians must leave the country by July 2019 or face deportation.
In addition, it's rumored that the Trump administration will cease offering TPS status for Honduran immigrants. At press time, however, that hadn't been confirmed.
___________________________________________________________________________________________________
El gobierno de Trump cancela el programa TPS para los salvadoreños
El lunes (8 de enero), el gobierno de Trump decidió terminar el programa de Estatus de Protección Temporal (TPS) para inmigrantes salvadoreños.
Creado después de que varios terremotos golpearon a El Salvador en el 2001, el programa fue diseñado para ofrecer ayuda humanitaria a los salvadoreños permitiéndoles trabajar y vivir legalmente en los Estados Unidos. Según informes de prensa, más de 200,000 salvadoreños tendrán que abandonar el país después de más de una década en los Estados Unidos.
«La decisión de terminar TPS para El Salvador se hizo después de una revisión de las condiciones relacionadas con el desastre en las que se basó la designación original del país y una evaluación de si esas condiciones de origen continúan existiendo, de acuerdo a  lo que exige la ley», el Departamento de Homeland Security (DHS) declaró en un comunicado de prensa. «Basado en una cuidadosa consideración de la información disponible, incluidas las recomendaciones recibidas como parte de un proceso de consulta interinstitucional, el secretario (de seguridad nacional) determinó que las condiciones originales causadas por los terremotos del 2001 ya no existen. Por lo tanto, según el estatuto aplicable, la designación actual de TPS debe ser t-erminada».
Se espera que los salvadoreños abandonen el país en los próximos 18 meses. Sin embargo, los salvadoreños que son elegibles pueden solicitar otras protecciones.
El DHS anunció que trabajará con el Departamento de Estado y el gobierno de El Salvador para educar a los interesados ​​y facilitar una transición ordenada.
Para Pedro Ramírez, un salvadoreño que reside en Connecticut, la noticia fue un shock.
«Vine a Estados Unidos y comencé una nueva vida», dijo Ramírez. "EE. UU. es mi hogar. No somos inmigrantes malos. Pagamos nuestros impuestos, ayudamos a la economía, y ahora quieren enviarnos de vuelta. No sé qué decirle a mis hijos. Ellos saben que EE. UU. es su hogar «.
Los salvadoreños no son los únicos inmigrantes que pierden su condición de TPS. Recientemente, el gobierno de Trump decidió poner fin a la protección de más de 59,000 haitianos que viven en Estados Unidos. Los haitianos deben abandonar el país en julio del 2019 o enfrentar la deportación.
Además, se rumorea que la administración de Trump dejará de ofrecer el estatus de TPS para los inmigrantes hondureños. Sin embargo, al cierre de esta edición, eso no había sido confirmado.