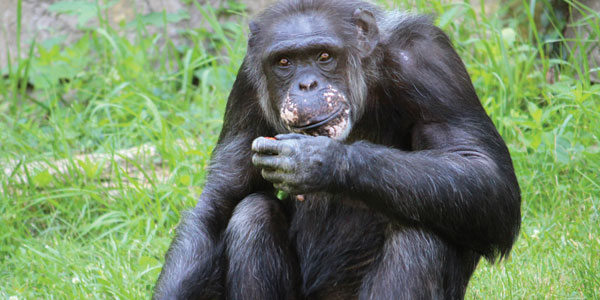 Kansas City Zoo: It is with great sadness that we report that one of the Zoo's beloved chimpanzees,
Patty, passed away yesterday at the age of 55.
A familiar face at the chimpanzee habitat, Patty was the matriarch of the troop and one of the most
recognizable animals we have at the Zoo. With her freckled face and spunky attitude, she was a favorite
of Zoo guests.
One of the oldest residents of the Zoo, she was born in Africa and came to Kansas City in 1966. Patty was
one of the ten oldest female chimpanzees at an AZA-accredited Zoo, living far beyond the 37-year average life expectancy for a female chimpanzee. The difficult decision was made yesterday to
humanely euthanize her due to declining health associated with her advanced age.
Patty did not have any children of her own but did serve as a surrogate mom to Dafina and was
something of a "grandma" to the entire troop. Most recently, she was helping to look after chimpanzee
youngsters Milo and Ruw.
Her devoted human caregivers will especially remember Patty for her feistiness. She was always willing
to learn new things, but also very set in her ways. She will be deeply missed by everyone at the Kansas
City Zoo.
---
Fallece el chimpancé más viejo del zoológico de KC
Con gran tristeza informamos que una de los amados chimpancés del zoológico, Patty, falleció ayer a la edad de 55 años.
Una cara familiar en el hábitat de los chimpancés, Patty era la matriarca de la tropa y uno de los animales más reconocibles que tenemos en el Zoo. Con su rostro pecoso y su actitud valiente, era la favorita de los visitantes del zoológico.
Una de las residentes más antiguas del zoológico, nació en África y llegó a Kansas City en 1966. Patty fue una de las diez chimpancés hembras más antiguas en un zoológico acreditado por la AZA, viviendo mucho más allá de la expectativa de vida promedio de 37 años, de una hembra chimpancé. La difícil decisión se tomó ayer para aplicar la eutanasia humanamente debido al deterioro de su salud asociado con su avanzada edad.
Patty no tenía hijos propios, pero sirvió como madre sustituta de Dafina y era una especie de "abuela" para toda la tropa. Recientemente, estaba ayudando a cuidar a los jóvenes chimpancés Milo y Ruw.
Sus devotos cuidadores humanos recordarán especialmente a Patty por su temperamento. Siempre estuvo dispuesta a aprender cosas nuevas, pero también muy determinadas. Será profundamente extrañada por todos en el zoológico de Kansas City.
El zoológico de Kansas City está abierto de 9:30 a.m. a 5:00 p.m. en los fines de semana. Llame al (816) 595-1234 o visite nuestro sitio web www.kansasotyzoo.org para obtener más información.