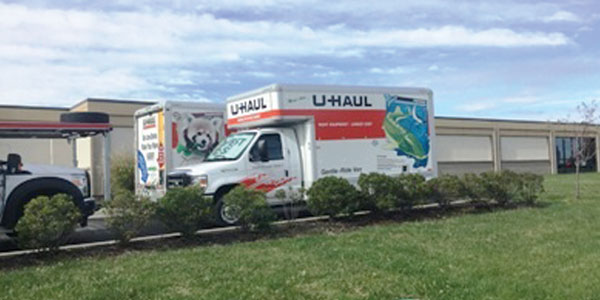 LENEXA, Kan. (April 12, 2018) — U-Haul Company of Kansas, Inc. is pleased to announce that iStorage of Meadow View has signed on as a U-Haul®neighborhood dealer to serve the Lenexa community.
iStorage of Meadow View at 7804 Meadow View Drive will offer U-Haul trucks, towing equipment, moving supplies and in-store pick-up for boxes.
The arrival of U-Haul Truck Share 24/7 is revolutionizing the moving industry through its more convenient, more secure way to pick up and return a truck. U-Haul live verification technology allows rental transactions to be carried out entirely on a smartphone at any hour – day or night. There are no membership fees. Simply visit uhaul.com to create an online account.
Normal business hours are 9 a.m.-5 p.m. Monday-Friday and 9 a.m.-3 p.m. Saturday. Reserve U-Haul products at this dealer location by calling (913) 745-3215 or visiting https://www.uhaul.com/Locations/Truck-Rentals-near-Lenexa-KS-66227/054285/ today.
iStorage of Meadow View partners Randy Weissman and Rick Beeson are proud to team with the industry leader in do-it-yourself moving and self-storage to better meet the demands of Johnson County.
U-Haul and iStorage of Meadow View are striving to benefit the environment through sustainability initiatives. Truck sharing is a core U-Haul sustainability business practice that allows individuals to access a fleet of trucks that is larger than what they could access on an individual basis.
Every U-Haul truck placed in a community helps keep 19 personally owned large-capacity vehicles, pickups, SUVs and vans off the road. Fewer vehicles means less traffic congestion, less pollution, less fuel burned and cleaner air.
iStorage of Meadow View is a great place to become U-Haul Famous®. Take your picture in front of a U-Haul product, send it in and your face could land on the side of a U-Haul truck. Upload your photo through Instagram using #uhaulfamous, or go to www.uhaulfamous.com to submit photos and learn more.
---
U-Haul se asocia con iStorage of Meadow View de Lenexa
U-Haul Company of Kansas, Inc. se complace en anunciar que iStorage of Meadow View se ha registrado como distribuidor de U-Haul®neighborhood para servir a la comunidad de Lenexa.
iStorage of Meadow View en el 7804 de Meadow View Drive ofrecerá camiones U-Haul, equipos de remolque, suministros de mudanza y recolección de cajas en la tienda. La llegada de U-Haul Truck Share 24/7 está revolucionando la industria de mudanzas a través de su forma más conveniente y segura de recoger y devolver un camión. La tecnología de verificación en vivo de U-Haul permite que las transacciones de alquiler se lleven a cabo íntegramente en un teléfono inteligente a cualquier hora, ya sea de día o de noche. No hay cuotas de afiliación. Simplemente visite uhaul.com para crear una cuenta en línea.
El horario normal de atención es de 9 a.m. a 5 p.m. De lunes a viernes y sábados de 9 a.m. a 3 p.m. Reserve productos de U-Haul en este concesionario llamando al (913) 745-3215 o visitando https://www.uhaul.com/Locations/Truck-Rentals-near-Lenexa-KS-66227/054285/ hoy.
iStorage de los socios de Meadow View Randy Weissman y Rick Beeson se enorgullecen de formar equipo con el líder de la industria en mudanza y autoalmacenamiento para satisfacer mejor las demandas del Condado de Johnson.
U-Haul y iStorage de Meadow View se esfuerzan por beneficiar el medio ambiente a través de iniciativas de sustentabilidad. El intercambio de camiones es una práctica empresarial de sustentabilidad básica de U-Haul que permite a las personas acceder a una flota de camiones que es más grande de lo que podían acceder de forma individual.
Cada camioneta U-Haul ubicada en una comunidad ayuda a mantener fuera del camino 19 vehículos de gran capacidad, camionetas, todo terrenos y furgonetas de propiedad personal. Menos vehículos significa menos congestión de tráfico, menos contaminación, menos combustible quemado y aire más limpio.
iStorage of Meadow View es un gran lugar para convertirse en U-Haul Famous®. Tome su fotografía frente a un producto U-Haul, envíelo y su cara podría terminar en el lado de un camión U-Haul. Suba su foto a través de Instagram usando #uhaulfamous o vaya a www.uhaulfamous.com para enviar fotos y obtener más información.